First, we hope everyone reading this is doing well and staying healthy! Hopefully we can get back to normal very soon. We look forward to seeing everyone in person again – it's been too long! Quick update on Brax below….
Both Brax and Bry were asked to model again this year for the Masonic Children's Hospital Fashion Fest. The entire family had an absolute blast at this event in 2019, but due to Covid this year it was held virtually. The girls were asked to come in a few weeks before the actual event on December 4th to model for UNRL. This year UNRL featured their clothing lines that help to benefit Masonic Children's Hospital, so the girls were able to wear gear from the TB1F merchandise. They had so much fun at the recording and were also featured in the same segment with Rocket the Therapy Dog and his handler Anna from Masonic. The girls both love dogs and Rocket is as sweet as they come. They were honored to represent UNRL, TB1F, and Masonic all in one night to benefit patient and family programming at the hospital.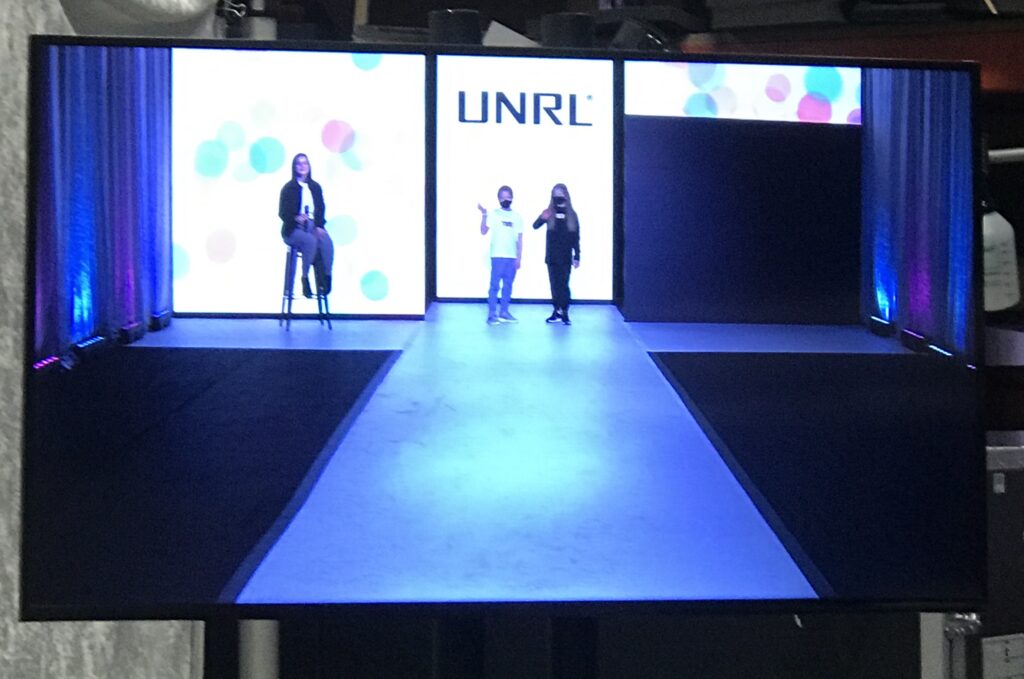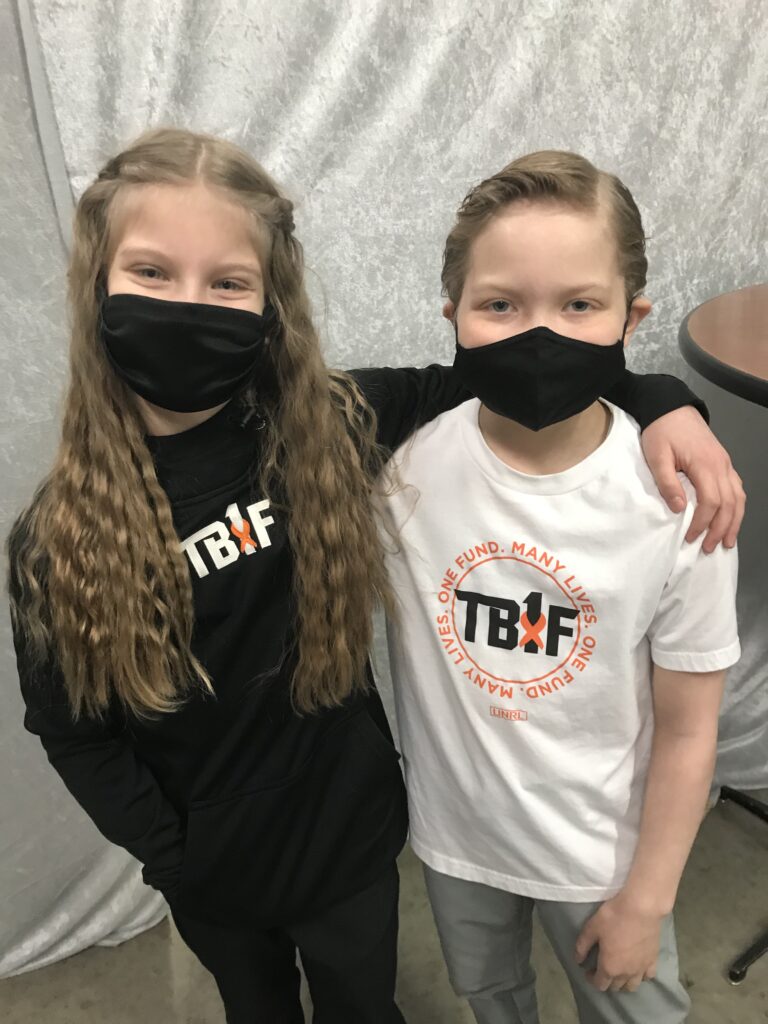 In other news, the regional chapter of the Leukemia and Lymphoma Society reached out to Brax and asked if she would create some artwork for their 2020 Supporter and Donor Thank You's. She decided to create a butterfly (symbol of childhood cancer) with orange (leukemia) and green (lymphoma) colors to represent blood cancer. Brax likes to draw so this was a fun little project for her.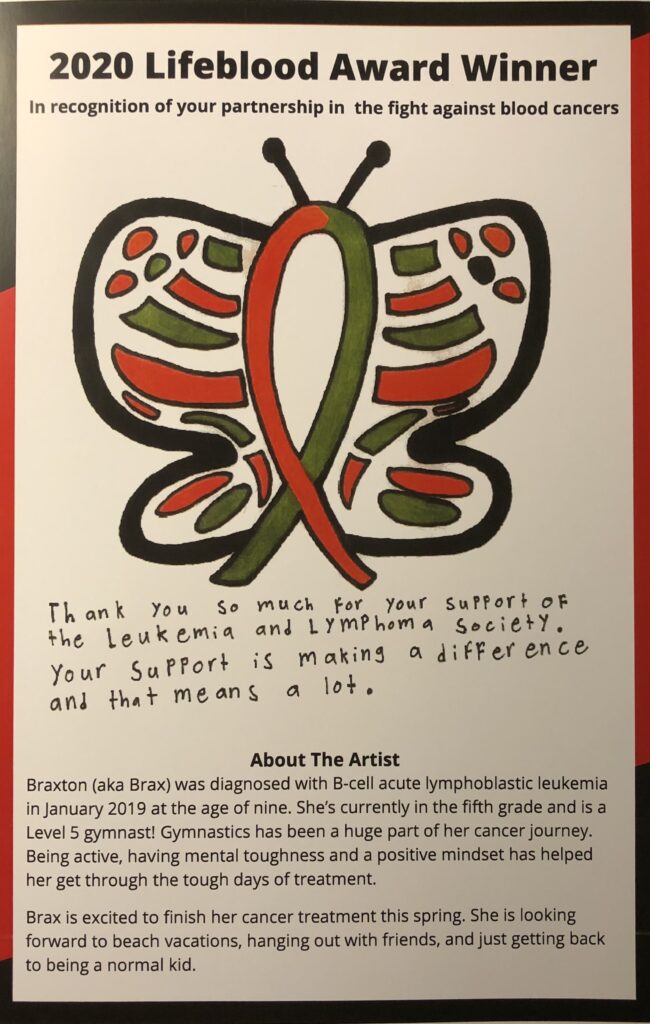 The Flippin' 5K in November was a huge success. Due to Covid we were already reducing our in-person registration and just days before the official, Gov. Walz announced closures that forced us to go 100% virtual. Nonetheless, everyone stepped up and things turned out great! We want to thank everyone who participated and helped to raise over $11,000 this year! We had people participate from all over the Twin Cities and as far as Boston to Phoenix. We look forward to holding this event again next year in person. Thanks for the continued support of Brax's mission to help other patients and families at Masonic Children's Hospital.
Brax turned 11 on November 25th and we can't help but wonder where the time has gone. Even with everything we have faced dealing with cancer and Covid time continues to go by quickly. She likes to remind us she is a "tween" now and is excited to be a teenager in less than 2 years…hahaha! Her birthday was low key of course and she did not feel great since she had treatment the day before. She had a lumbar puncture with chemo at that appointment and the nurses in sedation surprised her with a balloon and sign to wish her happy birthday. Brax received several gifts and well wishes from close friends and family and it made her day. Next year we are hoping to have cancer and Covid behind us and throw her a big birthday celebration since she has not been able to have a party the last two years.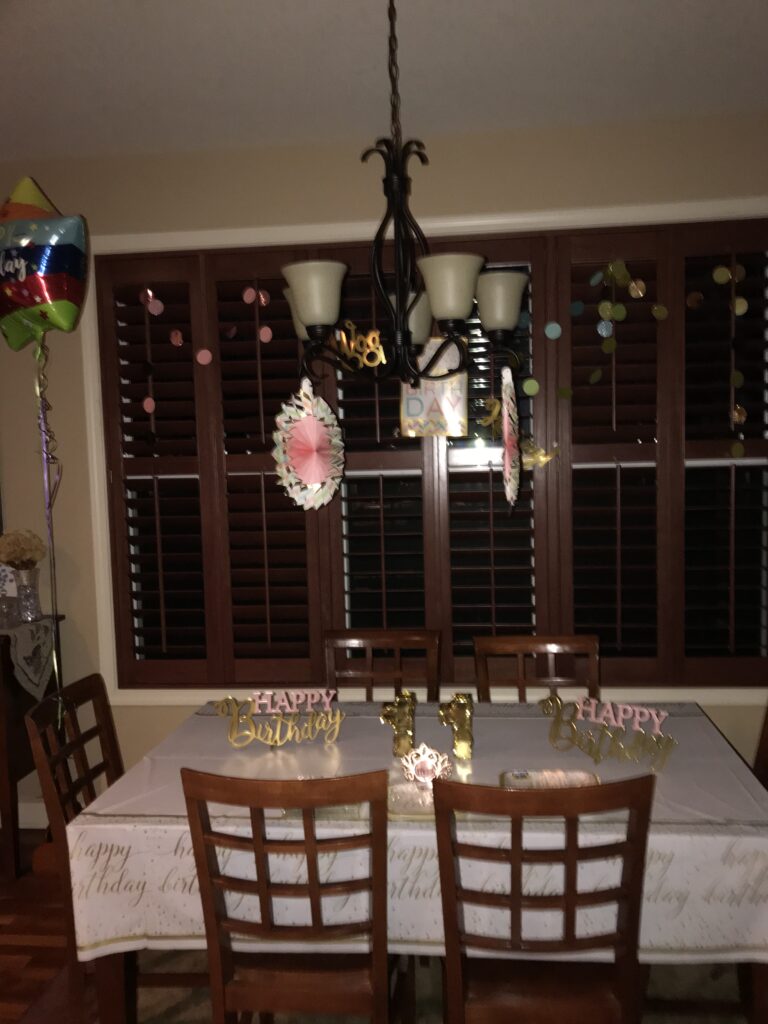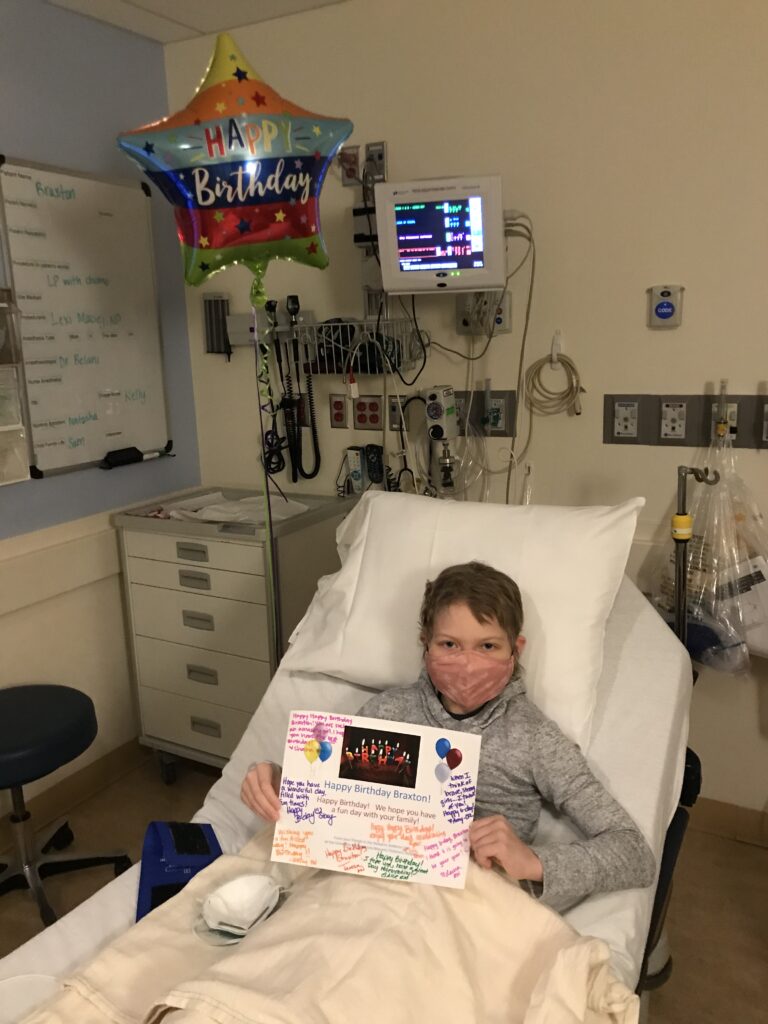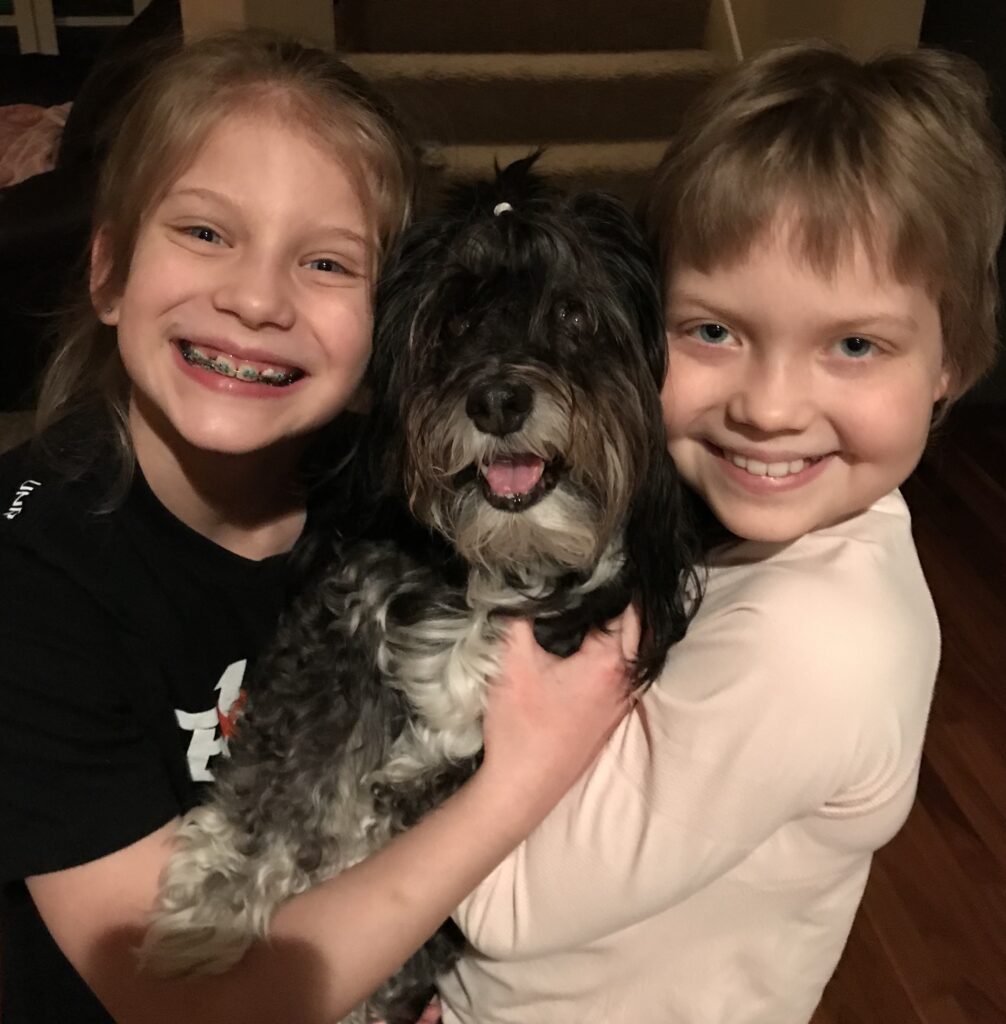 We hope everyone had a nice Thanksgiving. Ours was of course quiet, but we are a football and food family so we were happy to relax, eat, and watch football all day. We are not sure what Christmas will look like this year for our family, but if we can all stay healthy we will consider it a success. We often think of all the poor kids who have to spend the holidays at the hospital. This year will be extra difficult, so Brax wanted to do something extra special. TB1F partnered with Integrity Global Solutions (Dan's company) and BMW of Minnetonka to help deliver some extra joy this 'weird' holiday season. We donated 25 Nintendo Switch Lites and 25 Amazon Fire Kid's Tablets in December to help brighten the days of kids in the hospital during the holidays. Brax knows firsthand after 97 days in the hospital that having something to do and being distracted really helps to pass the time. Both of these items are handheld and can be used while in your hospital bed if needed.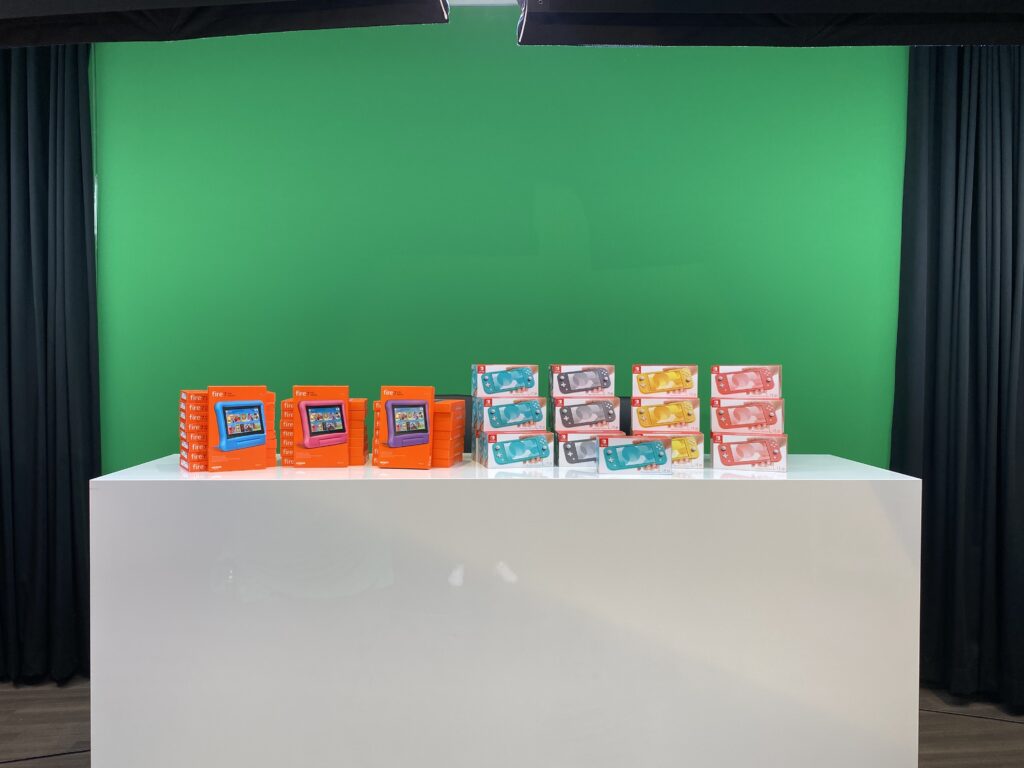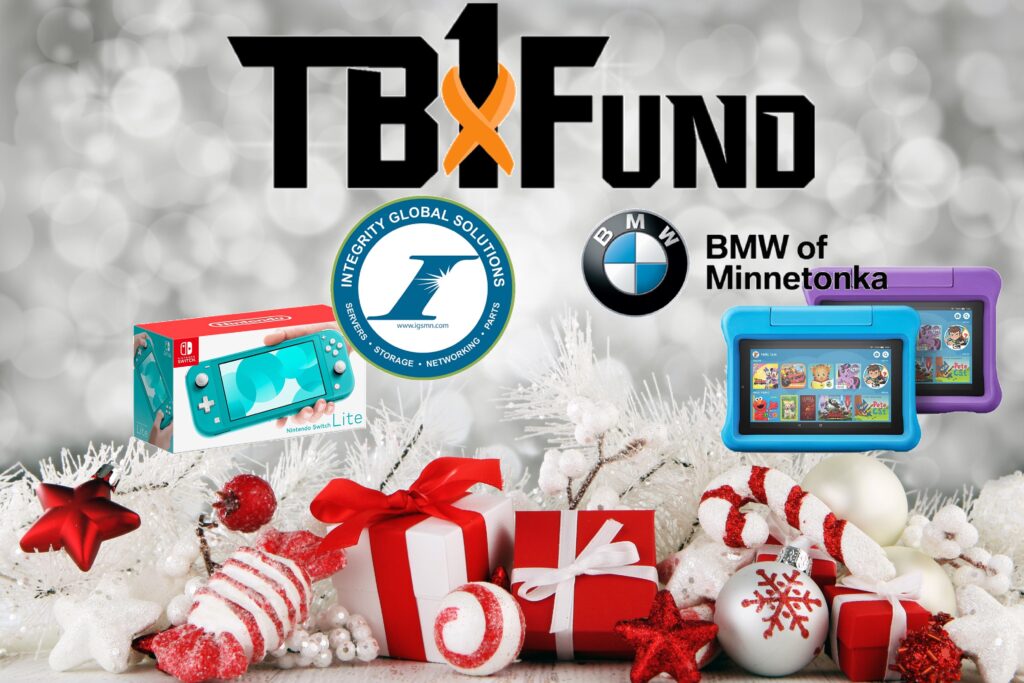 We want to wish everyone a safe and healthy holiday season!
Merry Christmas & Happy New Year – 2021 – we can't wait!
Please make sure to check out www.TB1Fund.org and see what Brax's Foundation is up too! We are constantly looking at ways to help kids and families at Masonic and with everyone's help and support we are making an impact! Thank You!