It's been a busy but good week for TeamBrax. We officially ended Delayed Intensification yesterday and we officially launched Brax's fund – TB1Fund. All very exciting!
Brax is feeling really good, but we are still in the hospital until counts recover. We don't have any real timeline, which is frustrating, but at the same time the she's in the best spot she can be with her immune system being compromised and as much as we'd like to head home, keeping her healthy is most important. Below is a snapshot of her current Treatment Roadmap….we are getting there! It's been a long 8 months, but overall no major setbacks and everything continues to move in the right direction.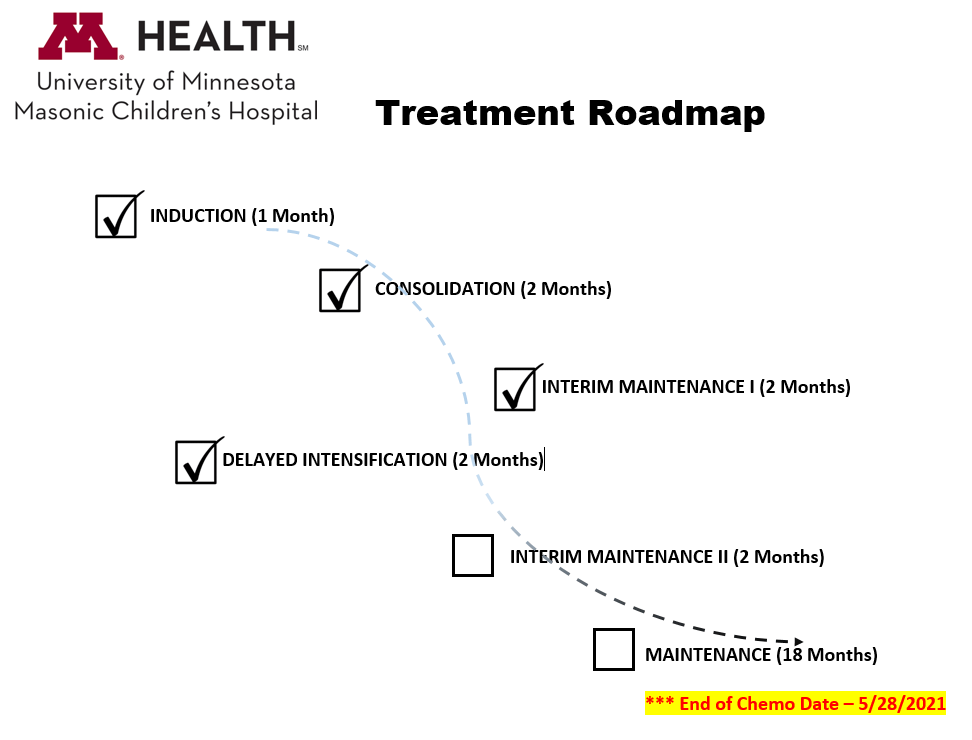 Also, we just recently launched TB1Fund. We have been talking about it for awhile now and it's finally here and launched! In partnership with the U of M Foundation, TB1Fund will allow Brax to help other patients and families at the University of Minnesota Masonic Children's Hospital. We are very excited about it and so are many others. We have had a great response so far and we hope everyone will help contribute if able. Thanks to everyone who has already supported and to all the amazing sponsors for getting this project off to to a great start. See the link below for more details and/or to donate.

Now back to blog-biz! The last week+ has been BUSY.
Friday the 13th Brax was asked to come be part of Dr. Moertel's award presentation. Hyundai awarded the U of M $300K for continued research – very AWESOME! Brax sat through the presentation and then got to leave her print on the car.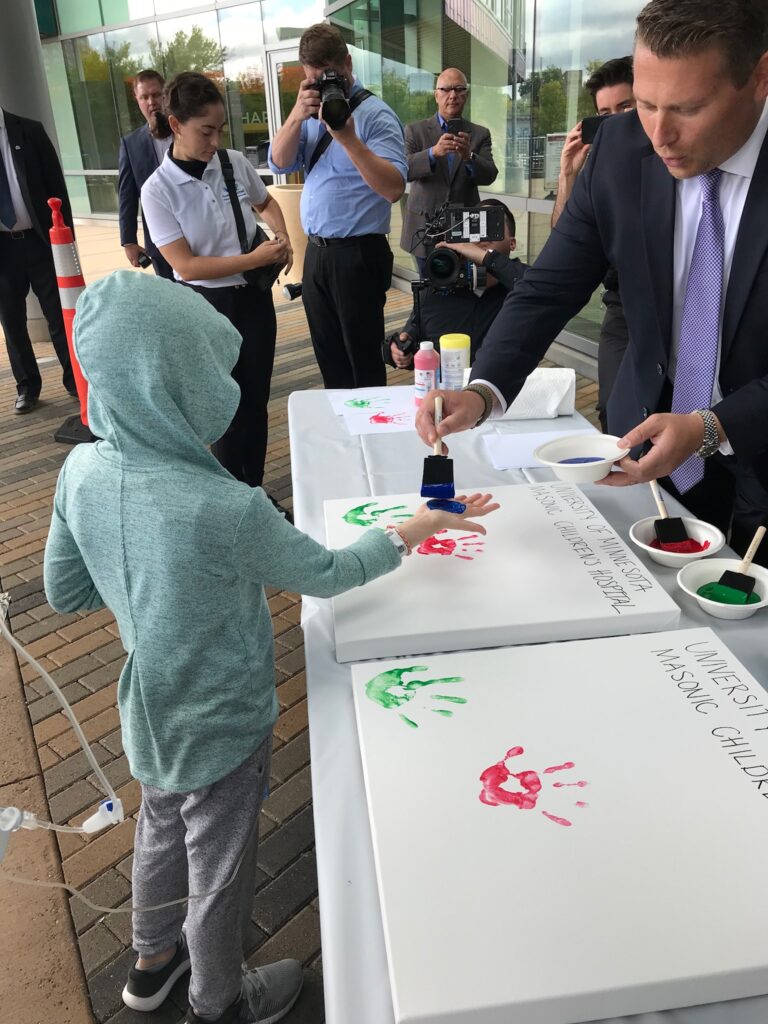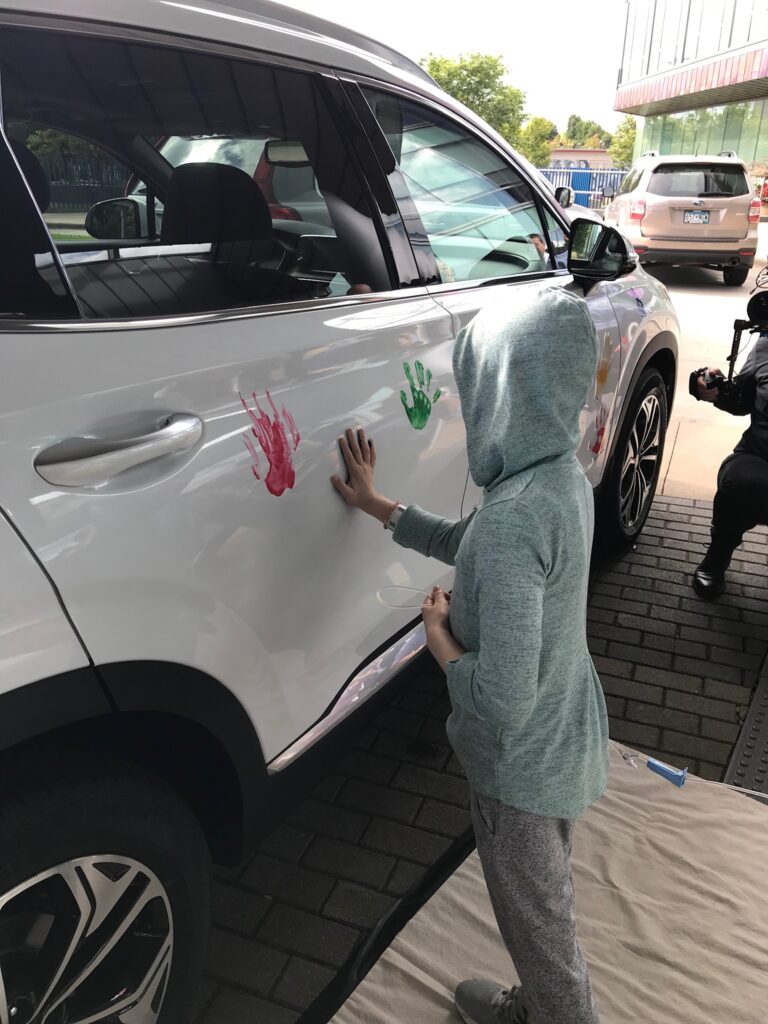 Saturday Bry came to the hospital to visit and the girls watched some Gopher's Football and hung out.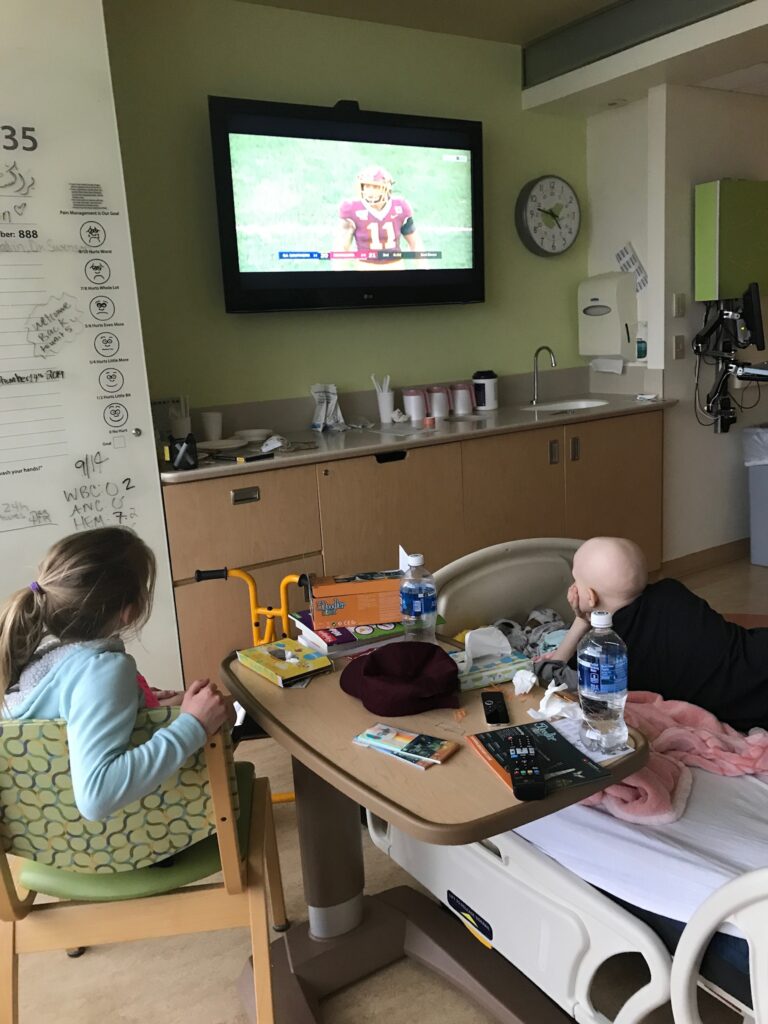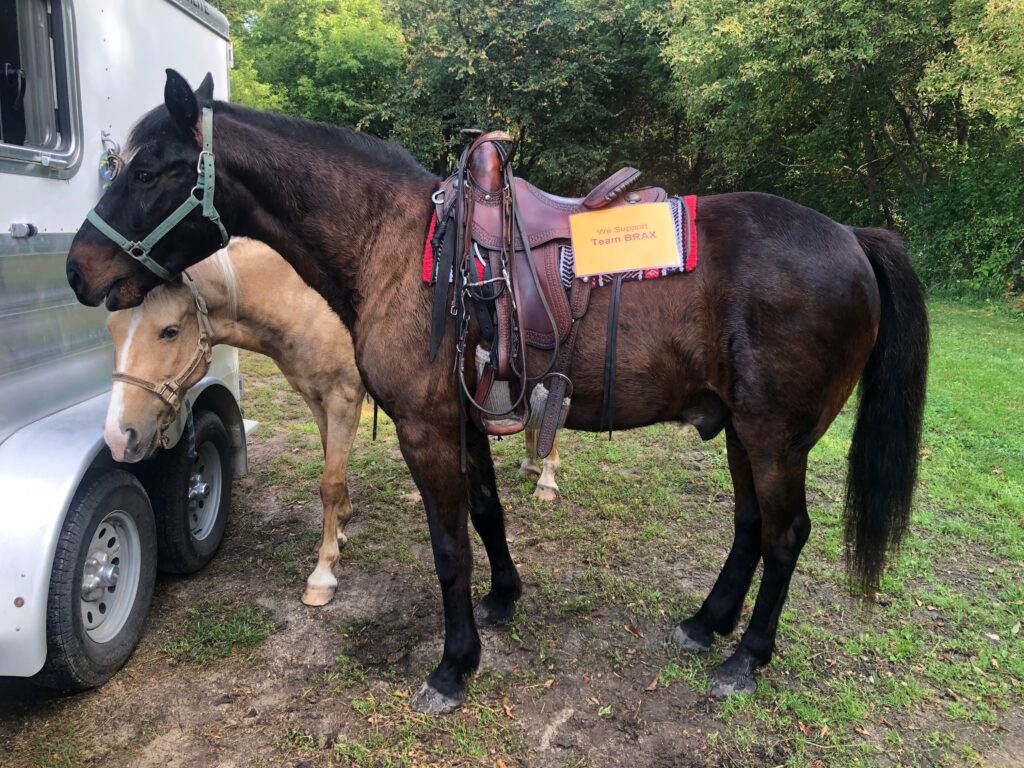 Last Wednesday was a really big day. The Women's Gymnastic team came in a couple of waves to check on Brax and see how things are going. It was our first time meeting Coach Hansen. She has been great about keeping in touch and checking on Brax.
Then not too long after, Coach Fleck, Heather and the football team came in to say hi. Coach Fleck & Heather have been great to Brax. Coach and Brax have a special little connection and it's pretty cool.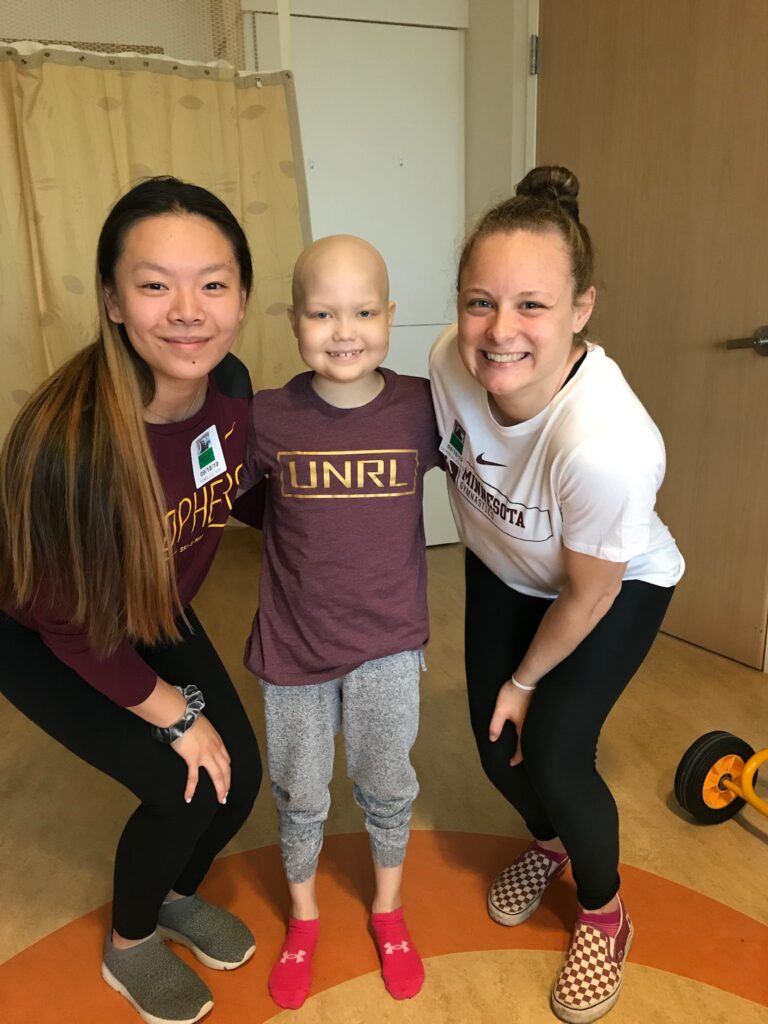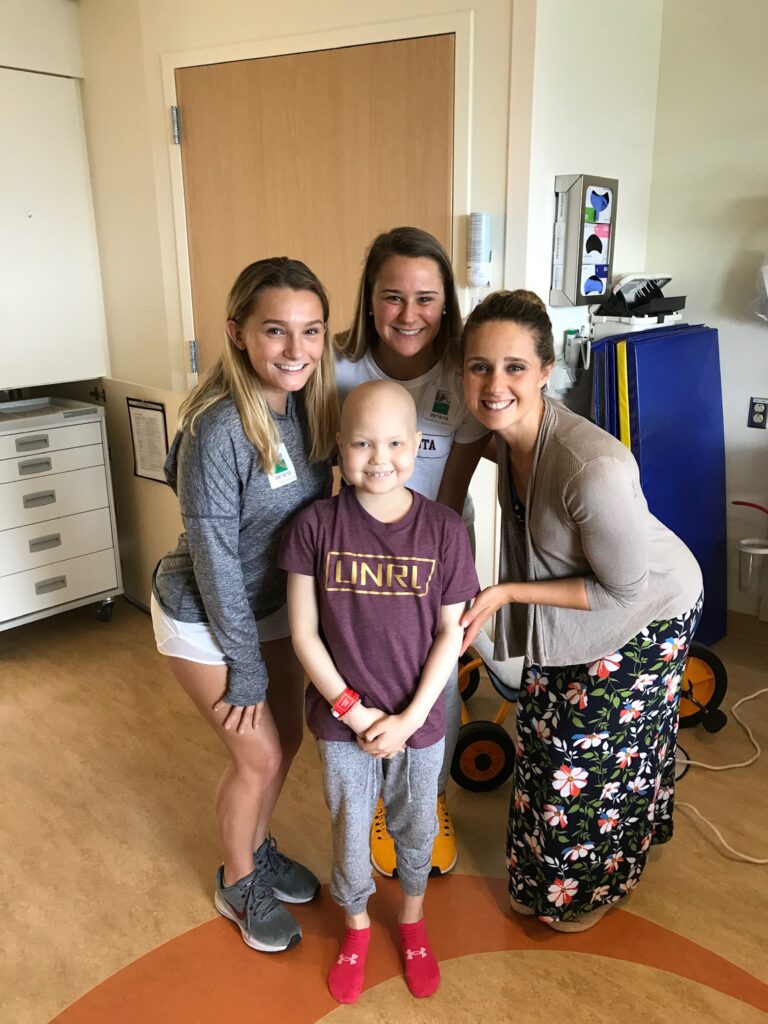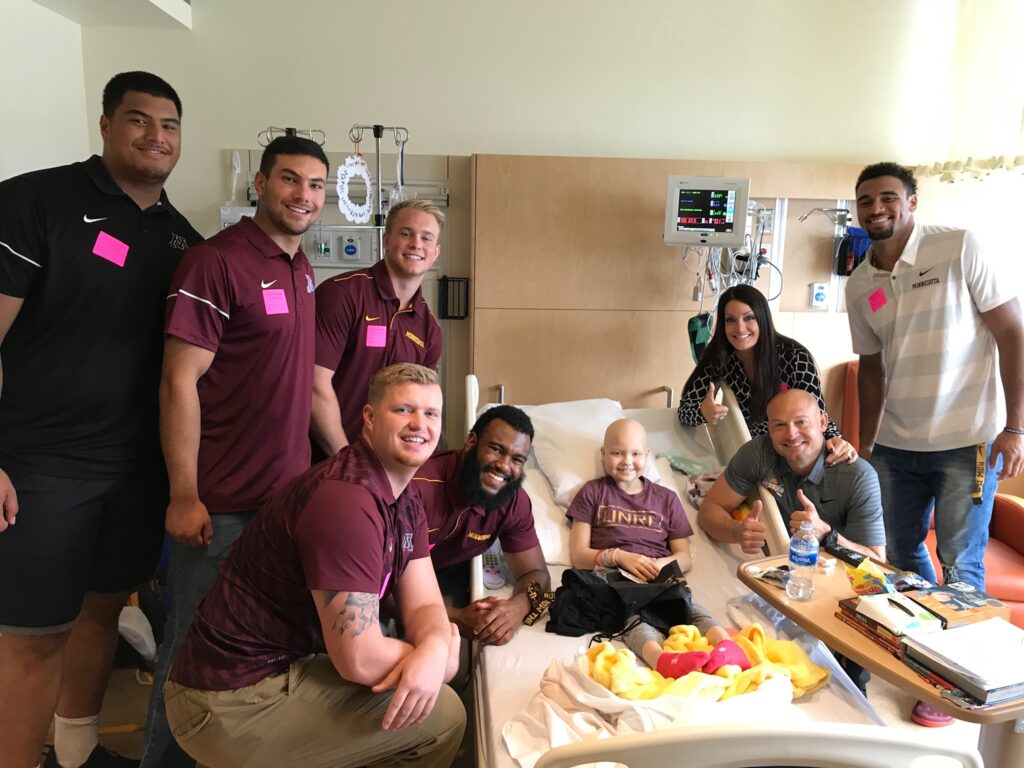 The rest of the week and weekend were really good. Brax's floor 5 buddy, Megan, came back to visit Brax. She's doing great and it was nice catching up with their crew. The girls hung out in the Endzone and it was a nice distraction for Brax. Sunday Bry came back and the girls watched the Vikes game and some gymnastics. Congrats to Grace on making the 2019 World Team!!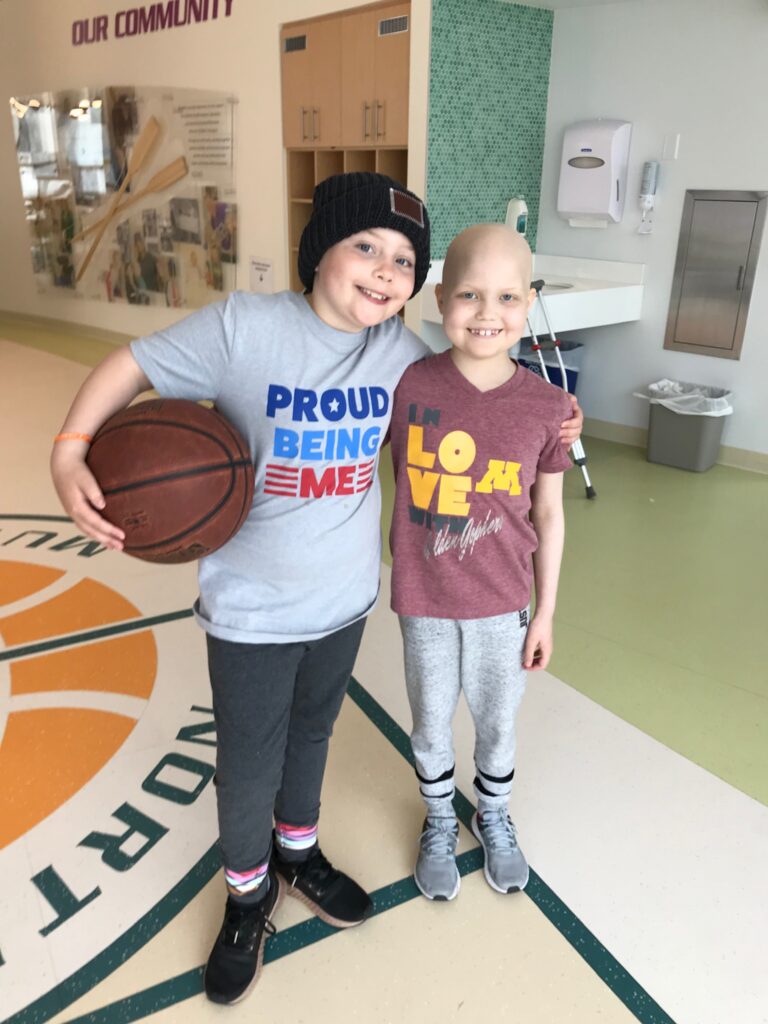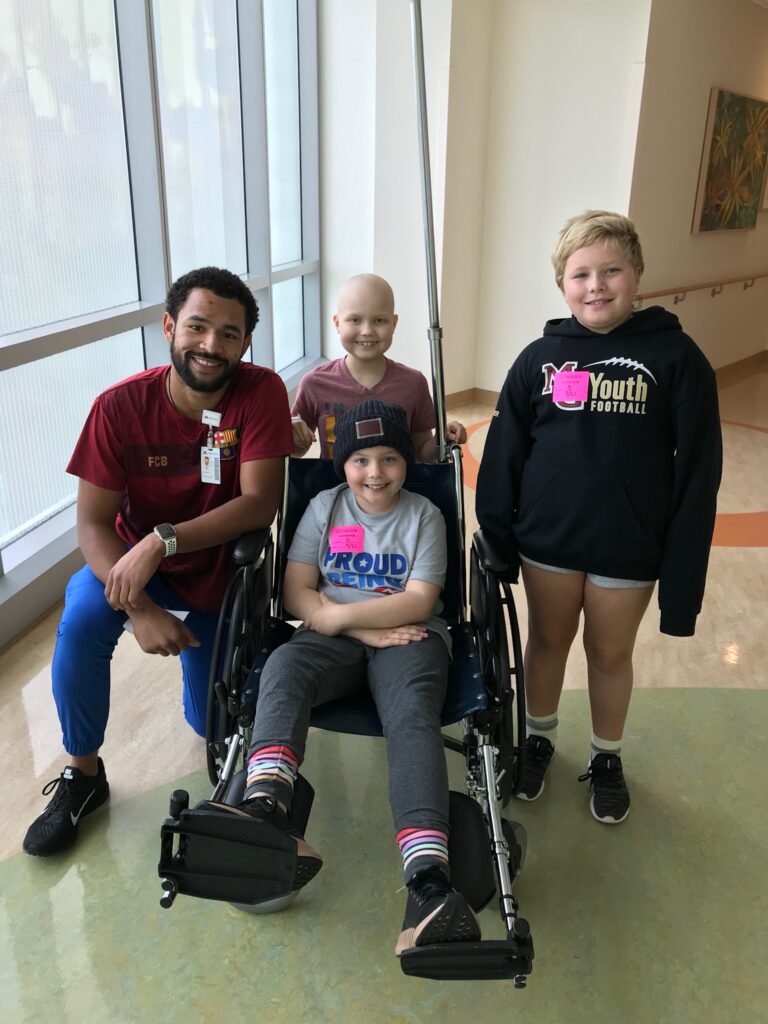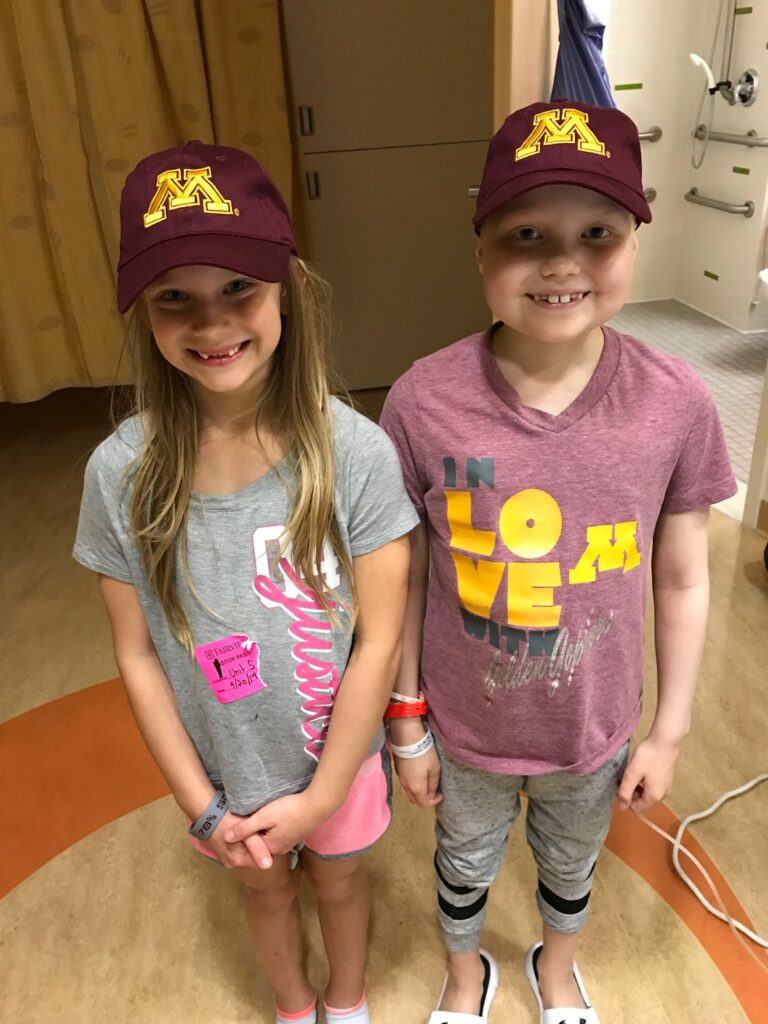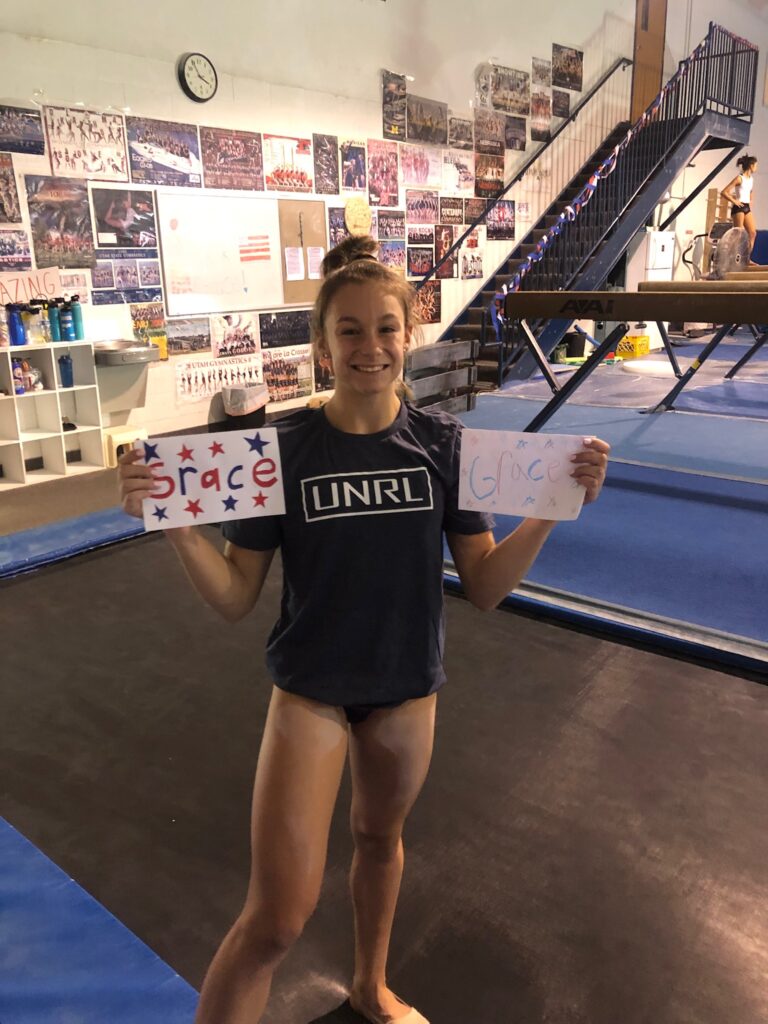 Yesterday, Brax spent a good chunk of time designing the bingo cards for the game she will be co-hosting this week in the Zucker Studio with Shannon from Child Family Life. She had a lot of fun working on this project.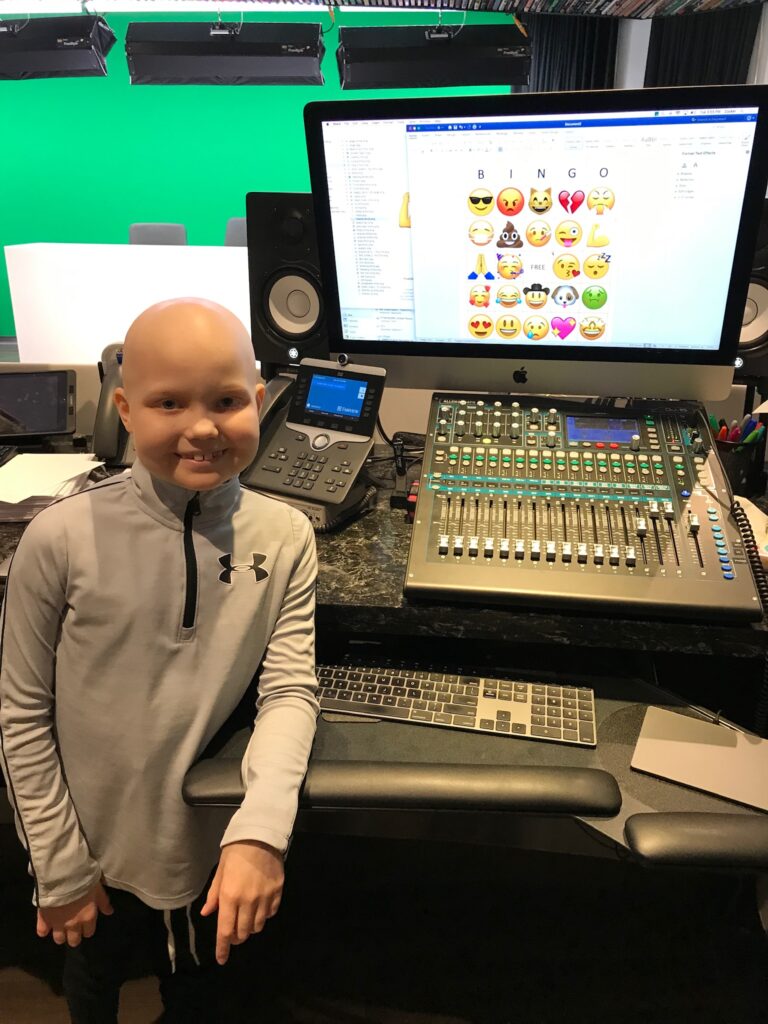 Today was another good day. Counts are still low but should start rebounding anytime now. The general rule is they want your ANC to be at .5 before they discharge and we are currently a goose egg (and have been for some time). We know the drill now, but it doesn't make it any easier waiting. But on the plus side, Brax feels really good and she's keeping busy. Today was Build-A-Bear in the lobby so she biked down to do that this morning.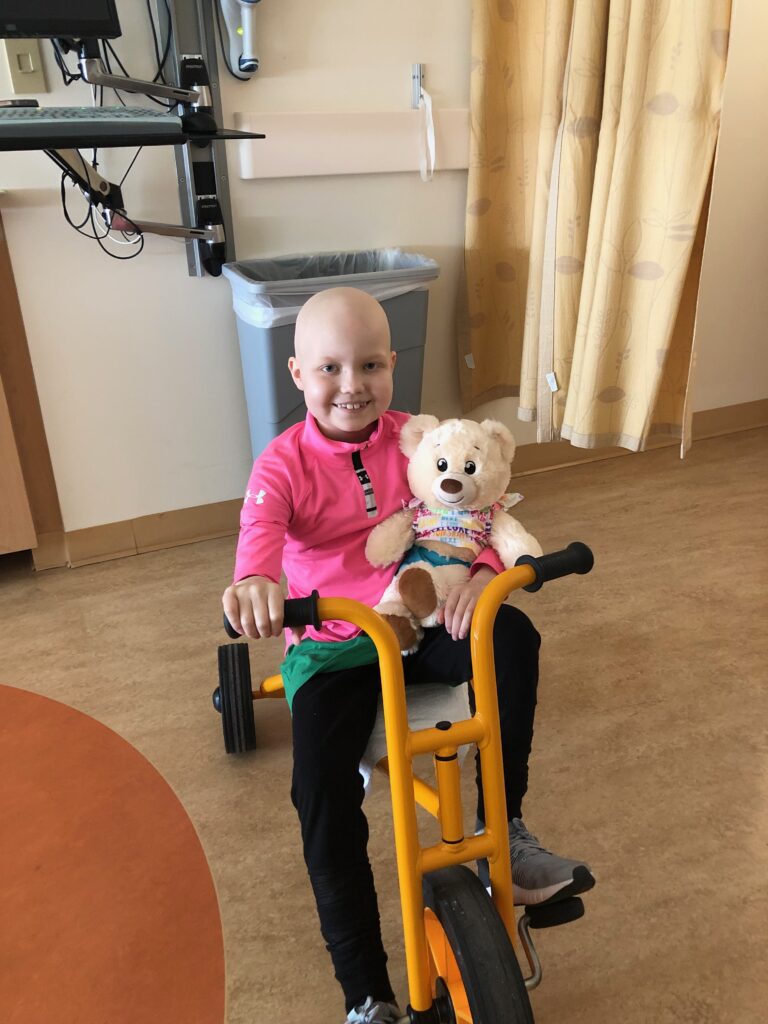 And finally, this coming Monday is Chad Greenway's big event, Celebrity Waiter Night, where a bunch of the Vikings players bartend and sign autographs and then a big dinner and auction all to support Chad & Jenni's Lead the Way Foundation. We have done this the last couple of years just as a fun event to do, but this year will be extra special as they have asked to feature Brax's story. It's funny how this has went full circle with us going as supporters and now we are the ones they are helping support.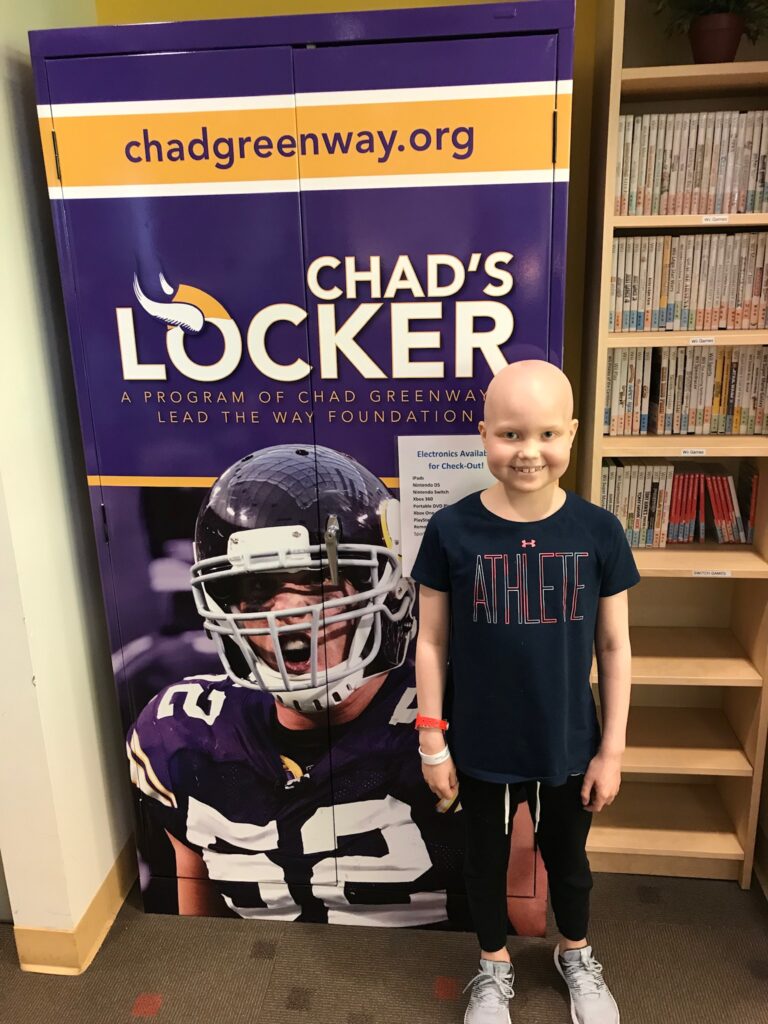 As always, thanks to everyone for the continued support and prayers! It's been a long 8 months, but we are taking it one day at a time and we are getting really close to getting things back to our new normal – back to school, practice, activities, etc – with the treatments worked into the mix. THANK YOU!