It's hard to believe that Brax is already in 5th Grade. Brax was diagnosed halfway through 3rd grade and due to her intense treatment protocol was unable to return to school for the remainder of the school year. She was set to return to school for the 3rd trimester of her 4th grade year but due to Covid, school did not resume in-person classes that year. Brax was really looking forward to starting school this year in-person – new school/fresh start – but we opted for Extended Flexible Learning for both girls to start the year. With all the unknowns we figured this would be the safest and best option for our family. School is off to a good start for both girls and we are fortunate that they both have great teachers.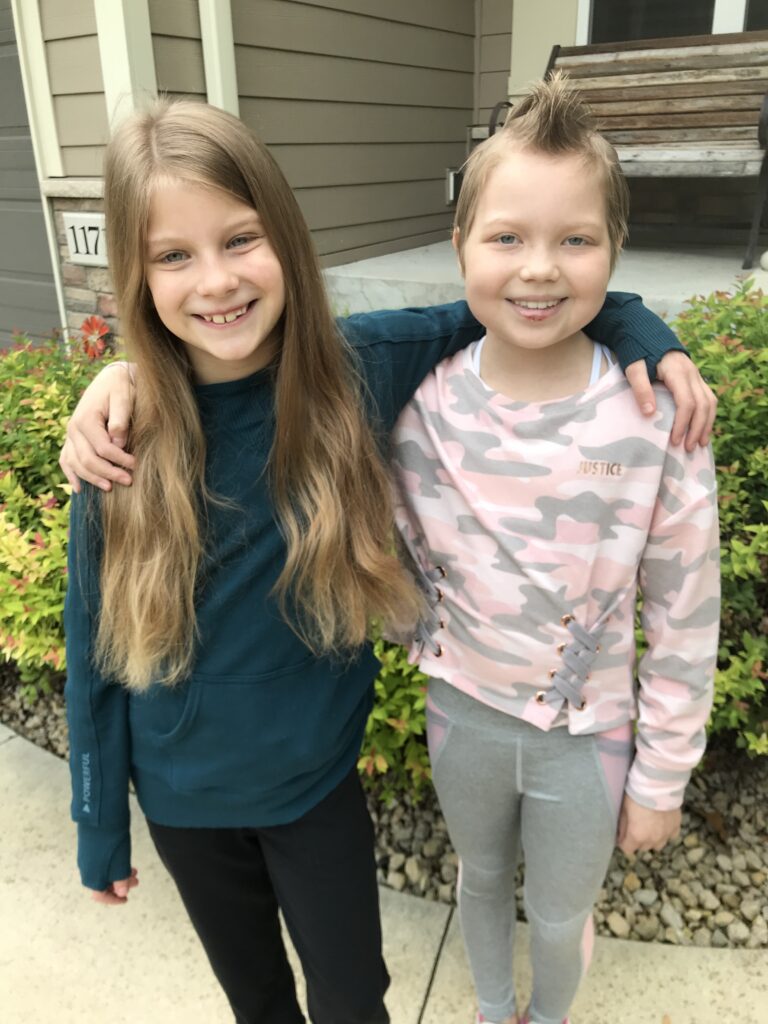 Brax had an unexpected visit to Masonic this month and we are happy to report it was not a fever or even cancer related. Long story short she hit her mouth on the strap bar at the gym while warming up giants. Total freak accident but a more normal thing in the sport of gymnastics. Luckily her platelets have been consistently good or else it could have been a very scary situation. We called the on-call fellow to see what we should do and sent her a few photos. By the time she called us back Brax was already back out on the floor practicing. She said if she wanted she could finish her workout but they did want her to come in to the ER (because it was a Sunday morning) to be evaluated after practice. She ended up getting just one stitch and some antibiotic cream. It was pretty swollen but she was happy to just have a "normal" kid injury and to not have a cancer issue at the hospital.
#ChalkforMasonic
In honor of September being Childhood Cancer Awareness Month Caribou Coffee decided to donate money to Masonic for cancer research for every chalk message posted on Instagram. Brax decided she wanted to participate in the challenge and decided to create a butterfly (childhood cancer symbol) with a gold ribbon as its body (gold ribbon signifies childhood cancer awareness) Her chalk art was actually picked to be featured on the post to announce Caribou Coffee's $5K donation to the hospital.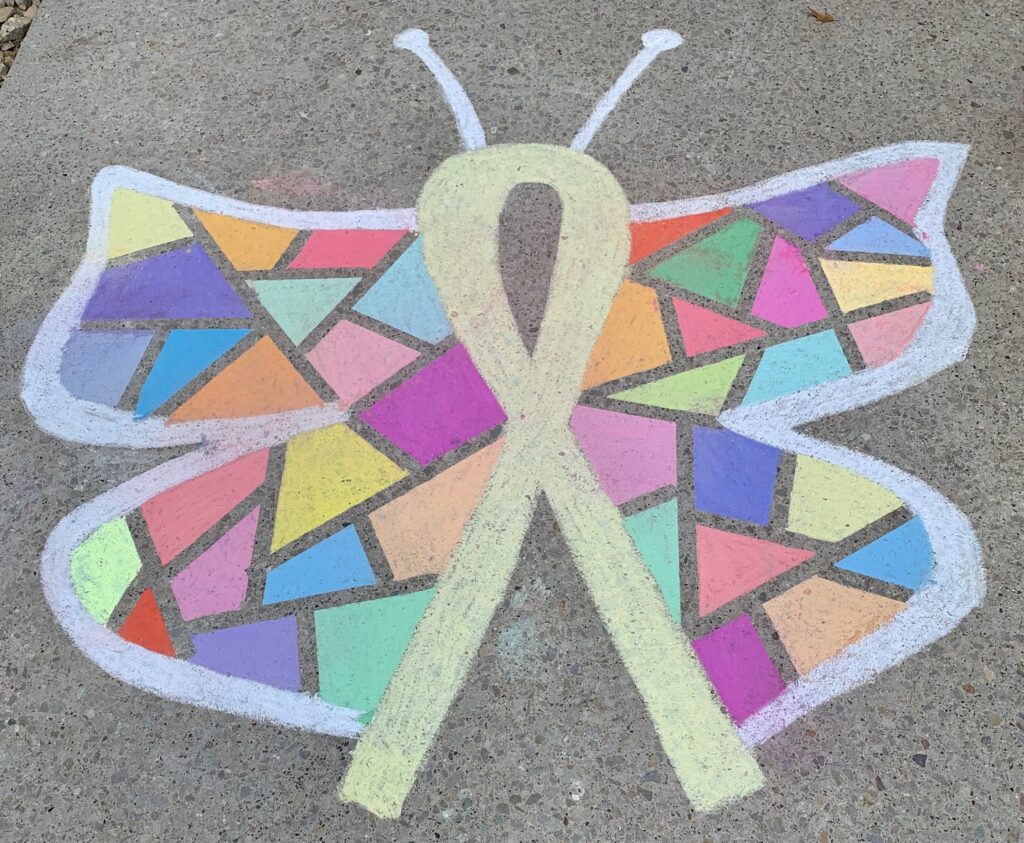 A few weeks ago we received a call from Rashod Bateman's agent. Bate was a star wide receiver for the Gopher football program for the past 2 years. Since the Big Ten cancelled their football season he decided to forgo his junior season and sign with an agent to prepare for the NFL draft. Rashod wanted to meet Brax and to gift her with a game worn helmet of his from last season. He told her that he was inspired by the speech she gave the team before the Outback Bowl and wanted to give her the helmet. Brax was honored to receive this special gift and be able to get to know him better. We wish him the best of luck this spring in the NFL draft but rumor has it that now that Big Ten football is back he wants to try to play football for the Gophers for one more season. We are so excited to watch such a kind and talented young man play football soon whether it be in college or the NFL.
*****CONFIRMED***** BATE IS BACK!!! GO GOPHERS, SKI-U-MAH!
And finally, to wrap up, we want to personally thank everyone who has followed and supported Brax these last 20+ months. We officially wrapped up year #1 of Brax's foundation, TB1Fund, and had an amazing first year. We raised over $110K (HUGE!), which is used specifically to brighten the days of patients and families at the University of Minnesota Masonic Children's Hospital. It was so important for Brax to stay mentally strong during treatment and that is half the battle for kids and families. It's easy to get down and discouraged, if not by the diagnosis and treatment alone, the daily grind of being in the hospital and away from home, family, friends and activities. Being able to provide toys, gift cards, hospitality days and spontaneous surprises to patients and their families and keep their mind off treatment, mentally strong and positively encouraged is worth more than anyone knows. With your support we were able to make that happen and look forward to continuing our mission.
Please check out our year end Newsletter (click here) and, if you are able to help in any capacity (donations, sponsorship, volunteering, etc), it is greatly appreciated and truly making an impact. We have a very specific project we are working on with the hospital and hopeful we can make it a reality and will share more info as it advances.
To help today, please visit www.TB1Fund.org
Thank You to all of our 2019-20 sponsors & partners who stepped up BIG TIME to help get this off the ground! And Thank You to all of sponsors & partners who continue to support us and who have have joined forces with TB1Fund for our Year#2 Kickoff!