First, we hope everyone is doing well and staying healthy! We haven't posted much in the last couple of months and will get everyone caught up!
Today marks the 300 day countdown until end of treatment for Brax. 554 days down, 300 to go….we are heading the right direction. Brylee wanted to do something special and threw together a great little 300 Day Party today for Brax and it was SPECIAL! Bry has a huge heart and whether or not Brax will admit it, Bry has been a huge part of Brax's recovery (physical, mental, and emotional). Quite the duo!
Brax is feeling really good and things are continuing to move in the right direction. In general, Maintenance has gone pretty smoothly and besides the 1 week a month she has treatment, she feels really good the remaining 3 weeks. We will take it!
We head back this Tuesday for another round of treatment and blood work.
Besides the normal kid stuff, Brax has been busy during her "good" 3 weeks. She has spent a lot of time with her new cousin Max, trying to see him at least a couple times per week. She love babies (and is very good with them).
We also celebrated Bry's 1st Communion in June. Due to COVID and all the limitations, we were finally able to get this in.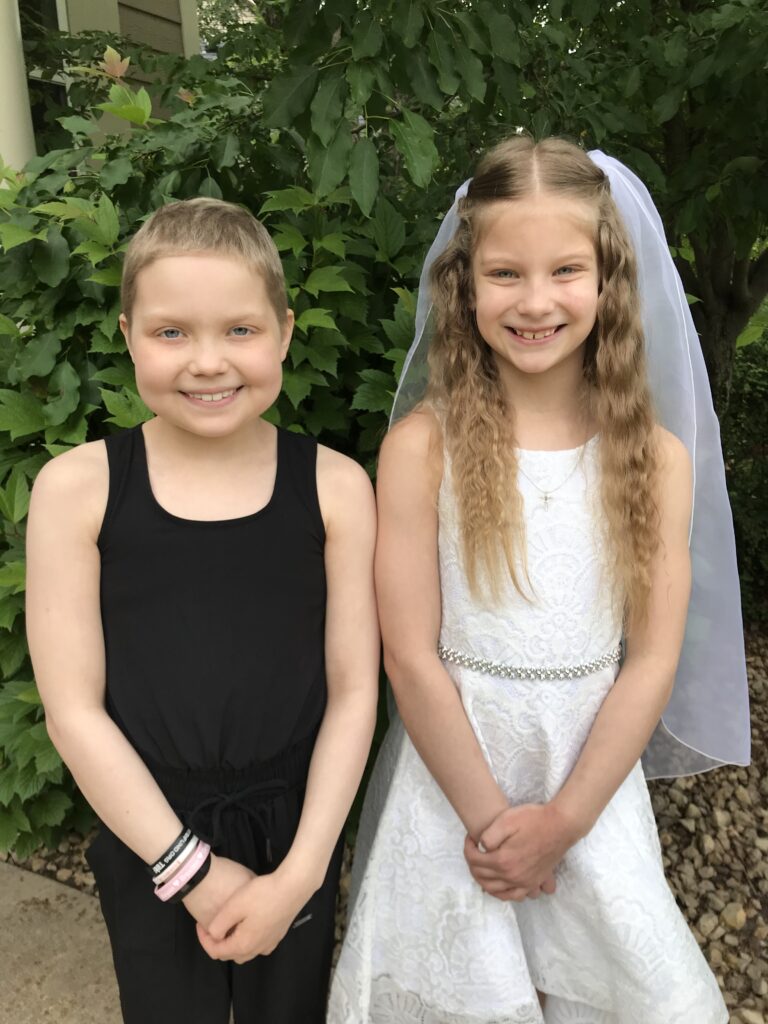 Brax has been busy with gymnastics and is back to the gym 3 times per week with her coach Kim. We are still taking precautions, so as much as she'd like to be back with the Team, she and Bry are practicing together due to her being more compromised.
She has also been able to get out the "farm" to ride some horses, which she has really enjoyed doing. She has had the chance to ride a couple different horses these last 2 months. Below are pictures of Buck (left) and Doc (right)!
4th of July this year was probably our best in the last couple years…..hard to believe a Covid 4th could be better than anything, but with Brax finally feeling well and being able to spend time with family for some extended time was awesome! Last summer we were right in the middle of intense treatment and the summer before we were dealing with arthritis (or what was diagnosed as arthritis, but possibly early onset leukemia).
A few weeks ago, the girls were able to have their end of season formal gymnastics banquet too. The program was great and it was nice to see a lot of the kids and families we have not seen in months. Thanks again to Jen for putting that together and the great photos of the girls. Brax's photo from the event below….turned out great!
Brax has met many new friends in the cancer circle and a couple weeks ago we were able to catch one of Jake's baseball games. He's doing awesome and will be done with treatment a couple months before Brax. It makes the heart happy to see these kids outside the hospital and doing well……being "kids".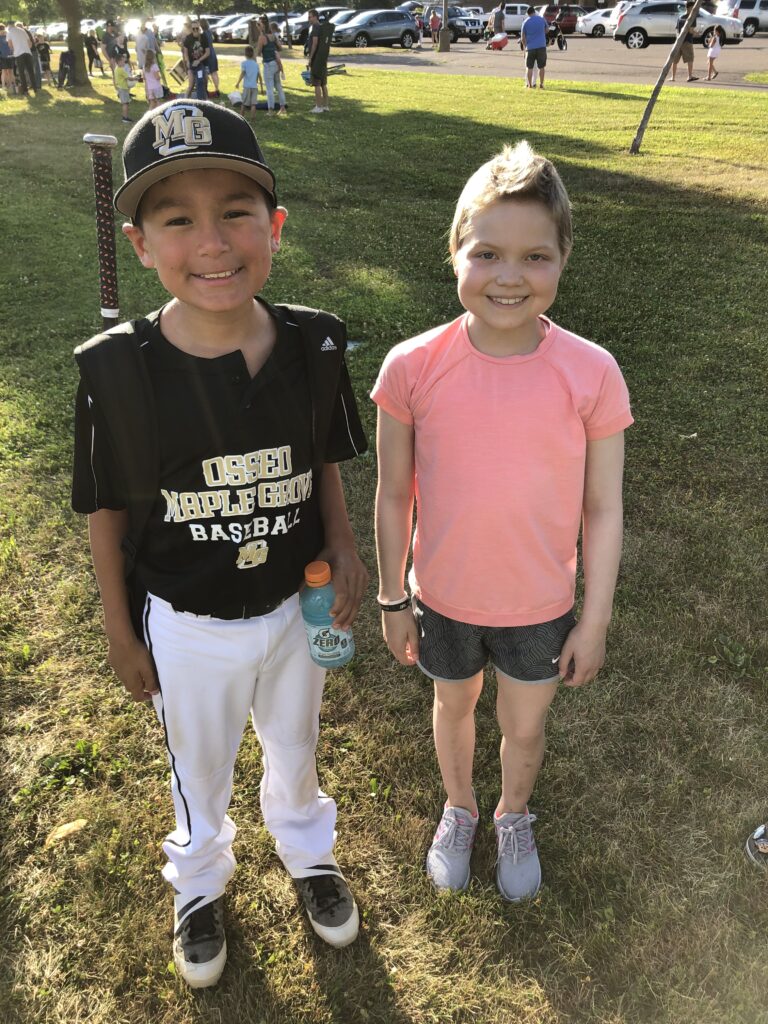 And last week Brax was able to take in a few events at the 3M Open. It was a much different experience this year, but it was still a blast to get out and see some golf. Matthew Wolff (last year's Champ) even took some time on Hole 13 to come over and chat with Brax and gave her a signed ball. Thanks Ryan!
In other news, thank you to everyone who contributed to Brax's July Toy Drive with BMW in support of the Masonic Children's Hospital. We had a great response and will post pictures this coming week. Thanks to BMW as well for partnering with us and for being the toy drop location. We hope to make this a yearly event, due to the success we had this year and for the need it fills at Masonic.
Also, TB1Fund (Brax's nonprofit) has done incredibly well this year thanks to everyone's support and we hope that continues. In partnership with UNRL, Brax has released some new items on the store and more will be coming later this summer/fall. Please check it out at www.TB1Fund.org/Merch Use the discount/promo code TB130 for 30% off any of your TB1F gear.
Finally, we wish everyone a happy and healthy end of the summer and back to school (however that may look for each of you). We continue to ask for your prayers over these last 300 days and please also include Brax's other good buddies going thru treatment as well, especially Bella, Megan and Jake.
Total Page Visits: 2523 - Today Page Visits: 2