Brax was finally discharged after a 26 day inpatient stay for Block 2 of treatment. It felt great to be home and sleep in her own bed and have a mini break before starting the next cycle of treatment. During the break Brax & Bry went to UNRL for a photo shoot for the UNRL x BRAX collection. Both girls had a blast and we were excited with how the gear turned out. Brax is honored to be named an official UNRL Athlete and represent the clothing brand, not to mention they are great friends and people.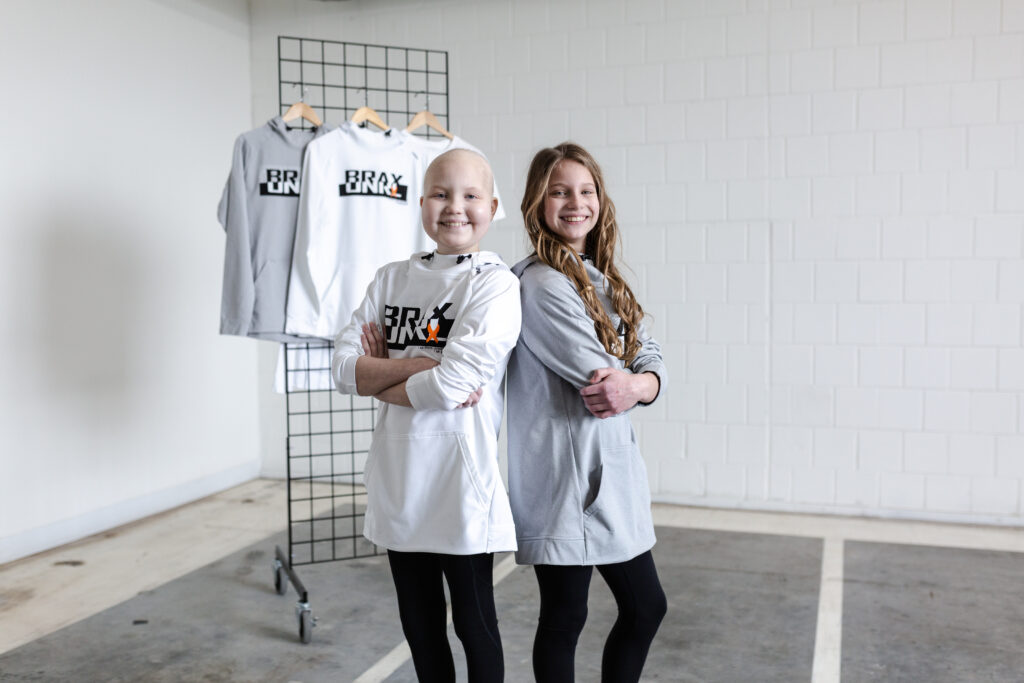 On Friday, February 10th Brax was once again admitted to start the first cycle of Blinatumomab (aka Blin). This is the new targeted immunotherapy drug that we are hoping will be the cure for Brax this time around. The med is programmed to hunt out leukemia cells that may be hiding and go undetected and lead to another relapse. The best thing about this med is that it only kills the bad cells, unlike chemo that kills all cells. This means Brax should feel better and have better blood counts during this cycle of treatment. That ultimately leads to her having more energy, getting to see friends & family, and getting to get out into the world more. Typically kids who are MRD negative at the end of the first month do better with this med and thankfully that has been the case for Brax. You need to be inpatient for 72 hours the first time you start the med since there are several side effects that need to be monitored. Brax has not experienced any side effects so far and is doing great. The only catch is that a Blin cycle is 28 days long and she is having a continuous infusion the entire time. This means she is accessed (port needle in her chest and hooked up to the med) the entire time. She was discharged after 4 days inpatient and we have been working with Fairview Home Infusion for her outpatient care. She has the new IV med bag delivered on Tuesday night and a home healthcare nurse comes on Wednesdays to swap things out. She is in charge of changing the batteries on her pump every 48 hours to make sure there are no interruptions to her med. Brax is in clinic on Fridays to get labs, meet with her team, and change her port needle. She had a lumbar puncture with chemo to start week #2 of the Blin and meet with her team in sedation. They are very pleased with how things are going so far. Brax has been able to see a few friends, go to TCT a few times, cheer on her sister and other teammates at Twisted Moose & Northern Lights, go out to eat, and start outpatient physical therapy. Brax finished Blin Cycle #1 on March 10th and will get a one week break from treatment before she starts the next phase, which will once again be different types of chemotherapy.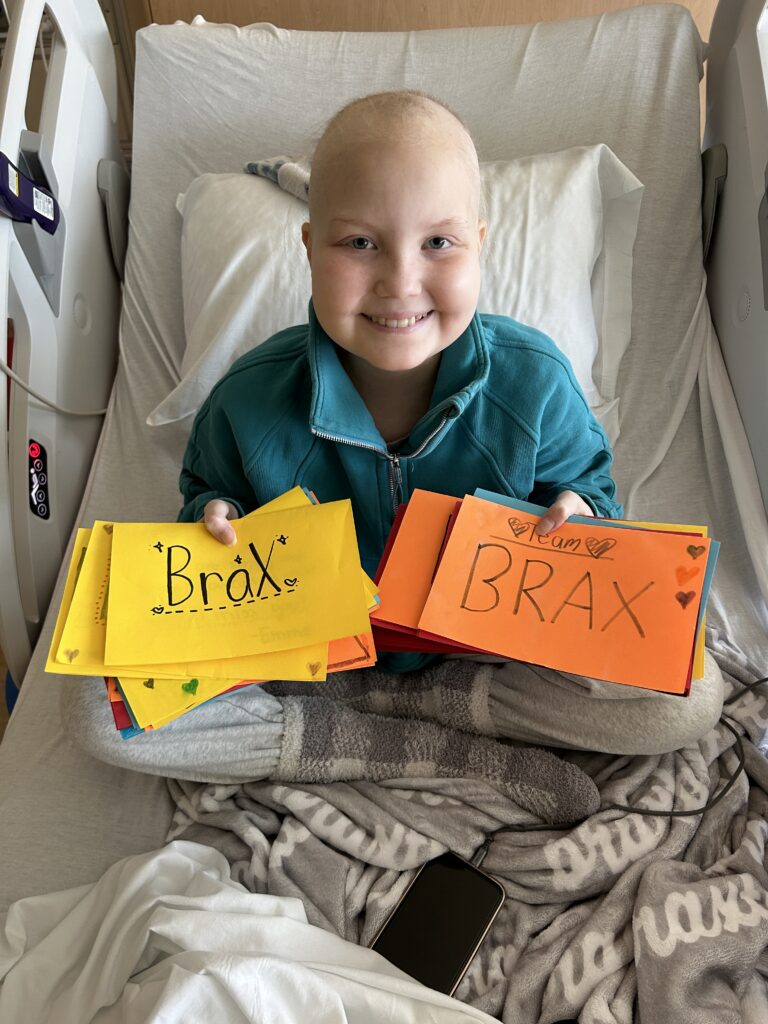 Shout out to Twin City Twisters – Brax & Bry's gymnastics club. Brax was an honorary team member at Winter Cup and the TCT Elites dedicated the meet to her. Congrats on an incredible start to the Elite season. TCT hosted Northern Lights and Brax's teammates competed in a special Team Brax leo to show their amazing support. Brax was able to join Brylee/coaches/teammates on the floor for this meet and it was special for our entire family. We could not be more proud of our TCT family and all of the support they have given Brax, Bry, our family, and TB1Fund.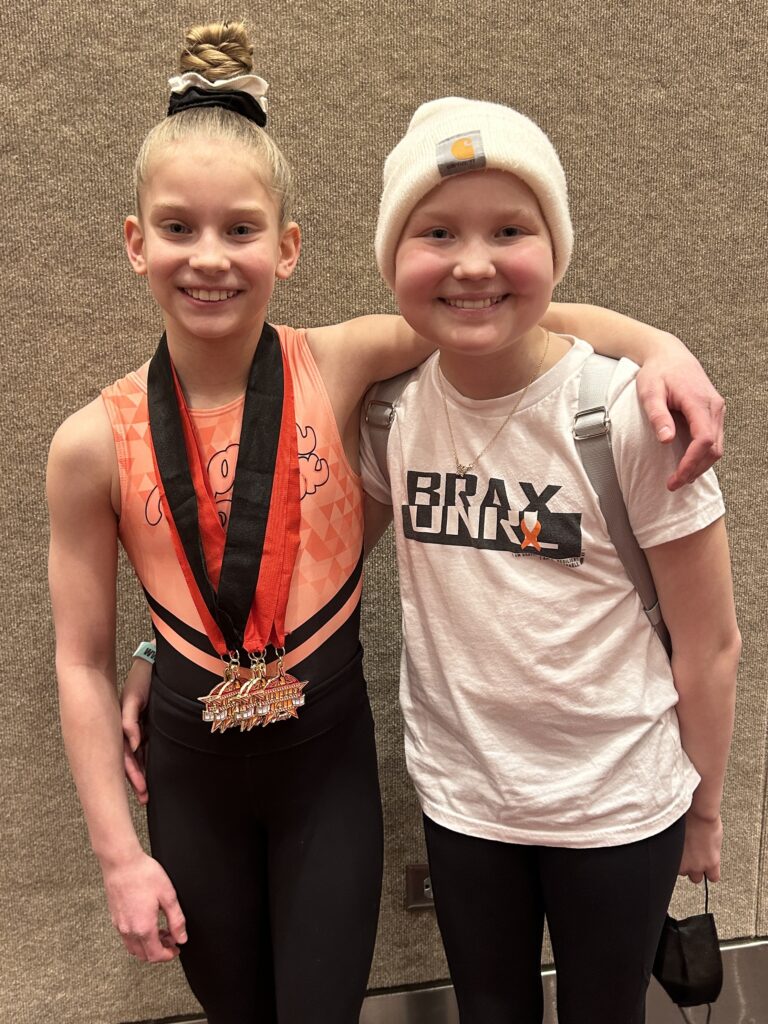 Thanks again to everyone to continues to check-in on Brax and support her in numerous ways through this relapse.
Also, please keep an eye our for upcoming TB1F events. Date are now officially set and there is some fun stuff coming.
Friday, April 28 – 3rd Annual TB1F Champions Cup (Sold Out)
Saturday, June 10 – 3rd Annual TB1F Putt4Patients by BMW of Minnetonka. This year we will hold this event at Scheels in Eden Prairie and tickets go on sale April 8th. Family Friendly Event!
Saturday, July 15 – 2nd Annual Summer Sounds Concert. We are back this year with Alannah McCready returning, along with headliner Michael Ray! Michael's team has name our stop an official 2023 National Tour stop which has added some wrinkles, but we are so excited to welcome Michael to town this July. Tickets on sale now! For more info see link below.
https://tb1fund.org/tb1f%2Fbb-summer-sounds
Hopefully we will see everyone at one or more of these events!
Total Page Visits: 958 - Today Page Visits: 1