Brax has had a great week so far!
We had her appointment Tuesday and her ANC wasn't high enough to start the next 4 week cycle. All her other numbers looked very good, but they require the ANC to be at 750 to start and once they start it doesn't matter if it drops (they expect it too). So, she is feeling really good with no chemo for the last week and half. We are anticipating her being able to start this coming Tuesday based on how well she's feeling and doing, but we will see. Dr. Sadak said it could be a week or two.
Today was a BIG day though!
Brax had HER first snow day of the year! Her teacher called this AM to see if we could reschedule since the district was closed. Brax was excited to claim an "official" snow day of her own today.
For lunch we went to Olive Garden (the wait time at 1:40 on a Thursday during a snowstorm is minimal…hahahaha!) Brax loves pasta in general, but has been craving Olive Garden lately and when she's craving something, we have been trying to make it happen, as her eating is very spotty (always has been), but it's so important we can keep her weight up for many reasons.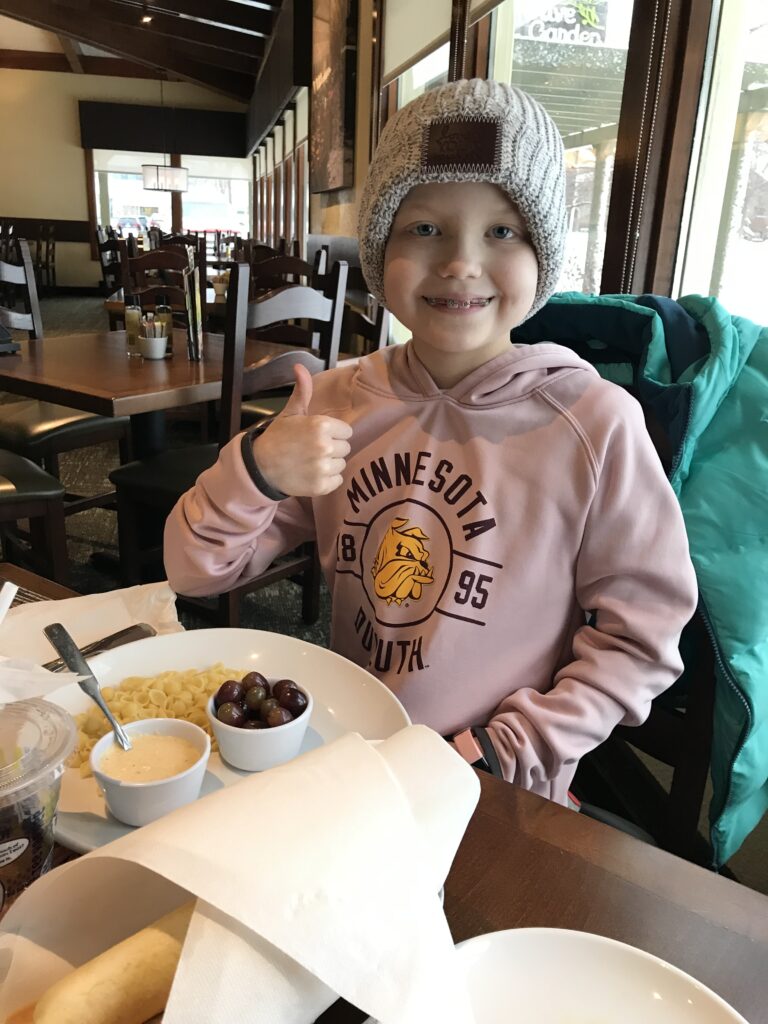 And then to end the day we were able to cheer the UMD Bulldogs hockey team on to another Frozen Four Championship appearance! GO DOGs!! National Champs last year……repeat?!?!
Total Page Visits: 1226 - Today Page Visits: 1