So, as of the last post on Sept 25th, Brax was still in the hospital waiting on count recovery. By Friday, Sept. 27th they finally came in and told us to go home. The Fellow said this was the most ridiculous hospital stay he has ever seen, but in a good way. The whole team agreed that it would be best to send us home and we weren't complaining. They said they "checked" all the boxes and everything was trending in our favor to go home, even with the low counts. Needless to say, we packed up as fast as we could and took off!
Since leaving, Brax is feeling great and doing awesome. We are so happy to finally be through the hardest cycles of treatment and moving on to the less intense cycles. Interim Maintenance II is our next round and we actually started today. It was scheduled to start last Tuesday the 1st, but counts were still a bit low. Brax was actually very excited to NOT start last week, as she was enjoying her "chemo break" and we were busy after being away from home for 3 weeks.
Saturday the 28th, the day after being discharged, ESPN released the video of our good friend Casey O'Brien on College Game. Casey has beaten cancer 4 times and is a truly amazing person. He's been a great inspiration not only to Brax, but to our whole family. He a big part of our team and a great person. We posted his video on our Fun Stuff page – check it out – you wont be disappointed.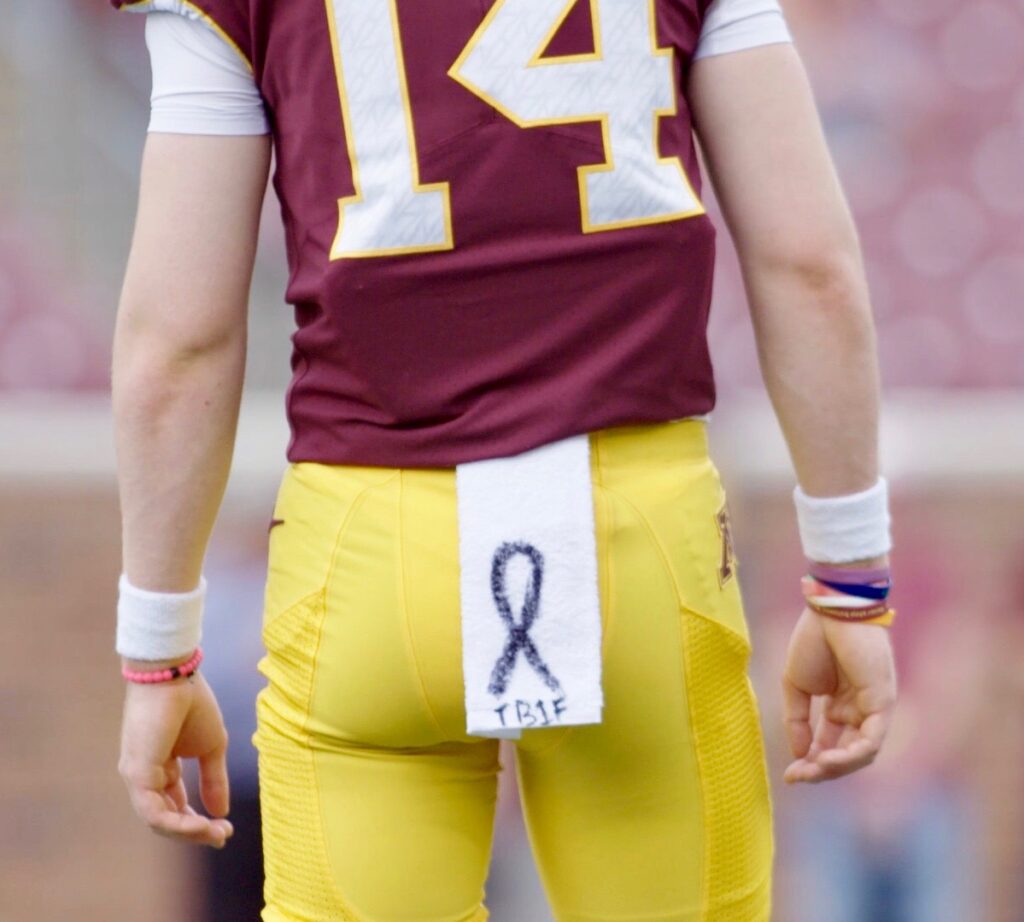 On Monday, we had Chad Greenway's Lead the Way annual fundraiser and Brax was the featured patient during the "Fund A Need" portion. The video that was shown can be seen on the Fun Stuff page. It turned out really nice and we were able to help raise a lot of money that evening for Chad's Foundation. This is always one of the most fun events of the year.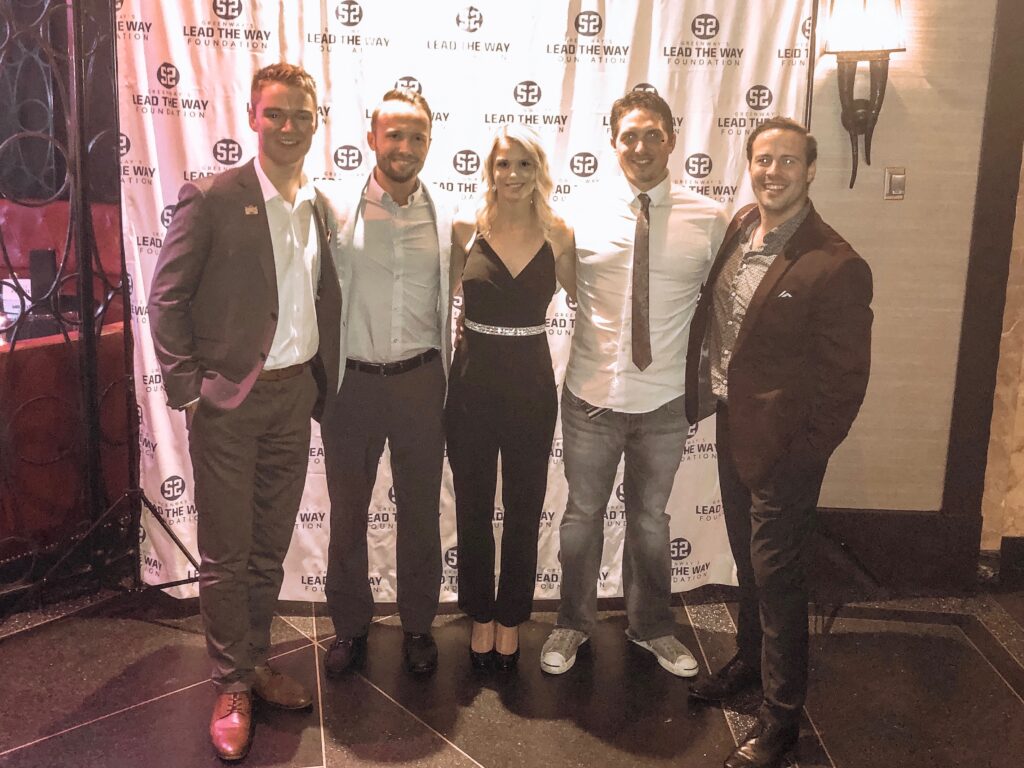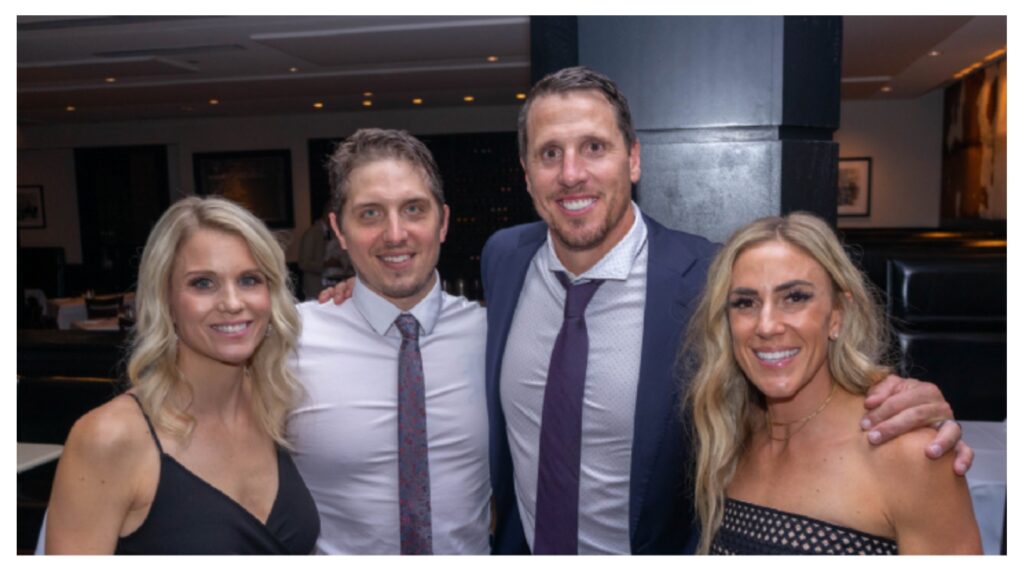 On Thursday, we had more exciting news relating to the TB1 Fund site….the store is now OPEN! Thanks to UNRL for partnering with us on this project and for helping to support our cause. A percentage of every item sold in the store is going back to TB1F. Check it out when you have a minute www.TB1Fund.org/merch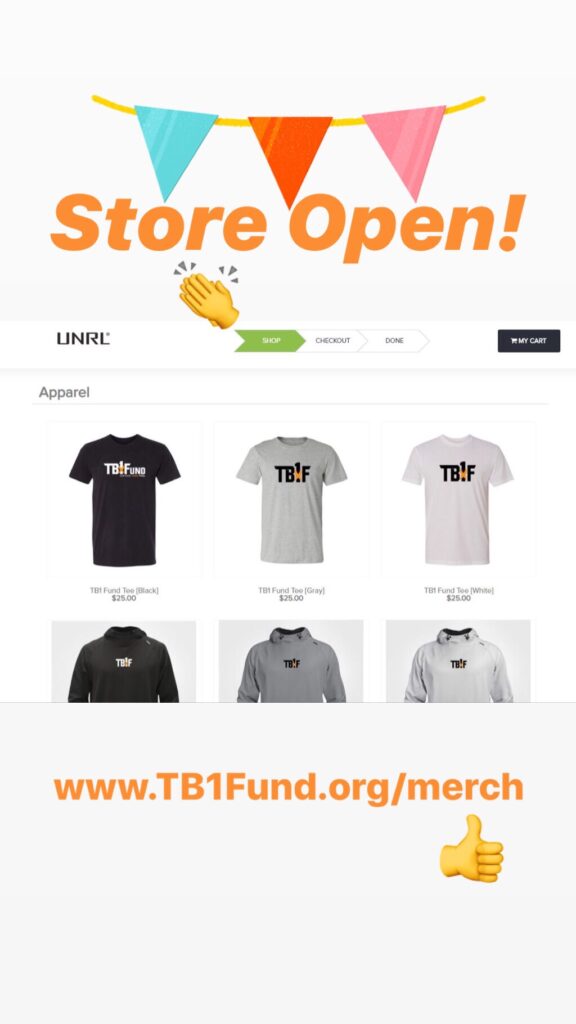 Friday we were back at UNRL working on some upcoming things. It was a fun afternoon and Brax walked out with the new Crossover Hoodie II. The team at UNRL has been great to work with and great with Brax!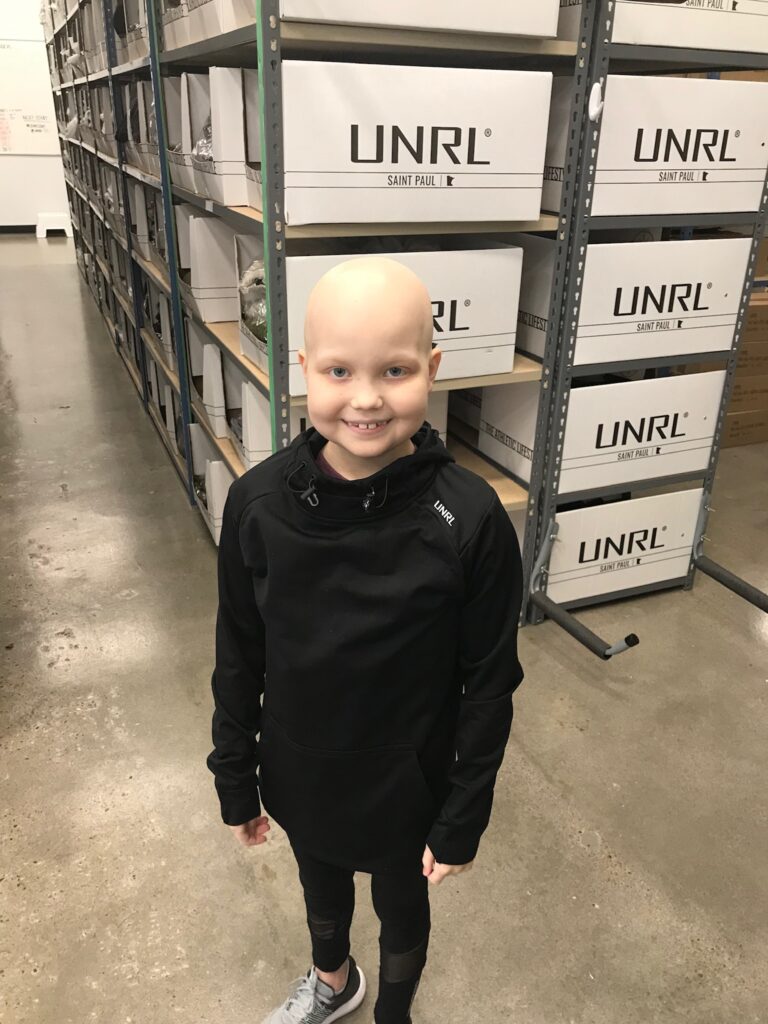 This past Saturday, the whole family was planning to do the Homecoming football game, but the weather didn't cooperate so the girls stayed home with G'ma & G'pa B. The weather wasn't great, but the game was. The Gophers are off to a great 5-0 start and a Top 25 ranking. Coach Fleck and the Football team have been great with Brax from very early on and Coach Fleck and Brax have a special little bond…needless to say we are big fans!
They aired a small part of the ESPN video on the big screen during the game – pics below.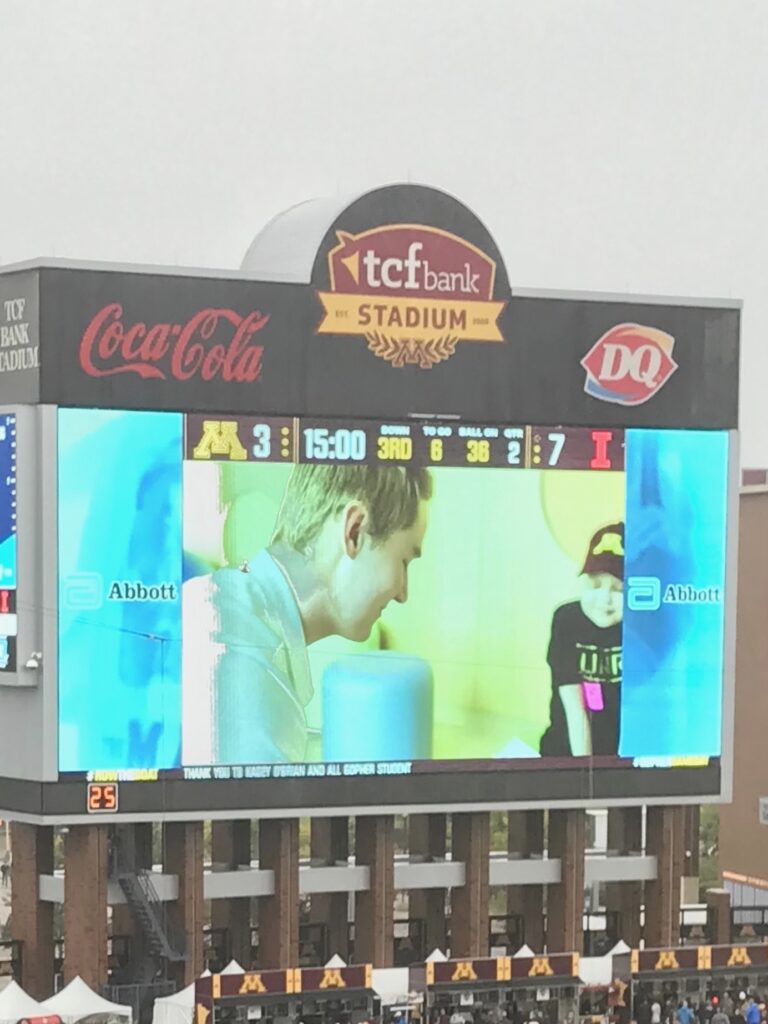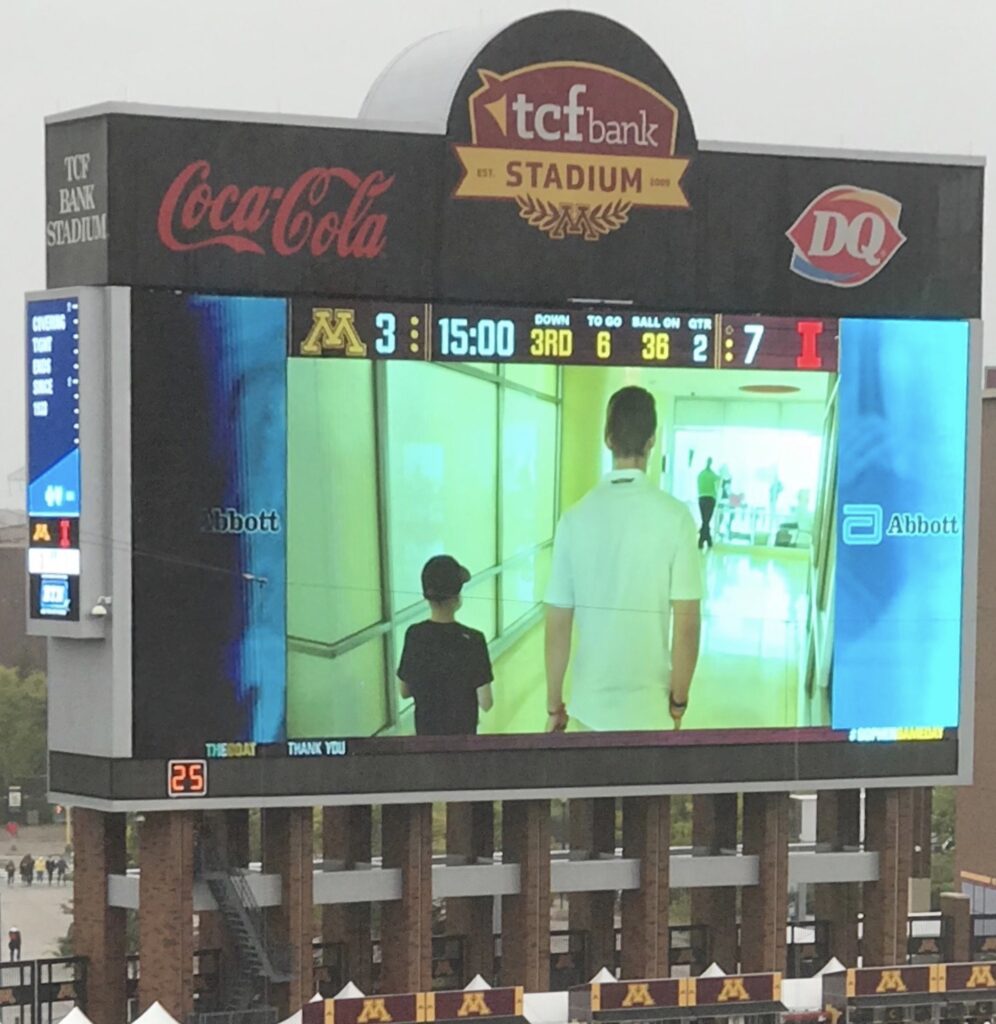 As we have said many times and will continue to say until this is over and presumably much longer, thank you to everyone for their continued support and prayers. We are very blessed to be surrounded by our army of family and friends.
Also, thank you to everyone for supporting Brax and TB1F in our mission to help other kids going through the same situation as us. We have had overwhelming support already and we hope this is only the start of much bigger things.
Please continue to keep Brax in your thoughts and prayers! They are working! Thanks again!
Total Page Visits: 1384 - Today Page Visits: 1